Scientists Discover New Multi-Drug Resistant Salmonella Strain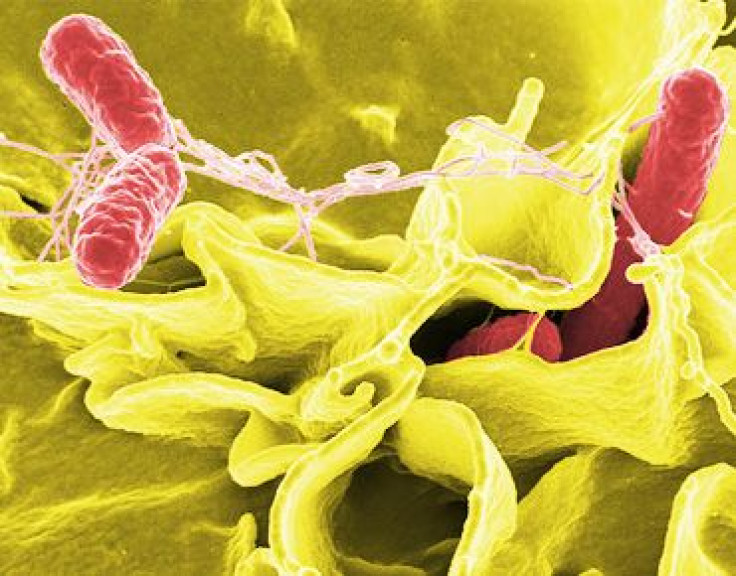 Emergence of Salmonella infections have been increasing from Salmonella Agona found in Papaya to recent Salmonella Heidelberg outbreak found in contaminated ground turkey.
Every year millions of Salmonella cases are reported worldwide resulting in thousands of deaths. In the United States alone, estimated 1.4 million salmonella infections have been counted. Resulting in 168,000 visits to doctors, 15,000 hospitalizations and 580 deaths annually reported by the WHO.
Symptoms of salmonella infection include fever, diarrhea, abdominal cramps and headaches lasting around a week. Most people get better without treatment. More serious cases involve the elderly, infants and people with chronic conditions. Once into the bloodstream, Salmonella can be life-threatening. The usual treatment is antibiotics.
In a recent study from The Journal of Infectious Diseases, François-Xavier Weill MD, and Simon Le Hello, PharmD, at the Pasteur Institute in France, found an emergence of a new strain of salmonella that has resistance to ciprofloxin (Cipro)- the most effective antibiotics used in current hospitals.
The researchers analyzed around 500 cases of drug resistant salmonella strains between 2000-2008 collected in European Countries and the United States. The researchers found the origin of the new salmonella strain CIPR S.Kentucky is from chickens and turkeys in Northern Africa. Poultry have been found to be the main vehicle for the infection. The common use of broad-spectrum antibiotics (fluoroquinolones) in chicken and turkey production in Ethiopia, Morocco and Nigeria may have contributed to the rapid spread.
"This study highlights the importance of public health surveillance in a global food system," according to Dr. Le Hello, "We hope that this publication might stir awareness among national and international health, food, and agricultural authorities so that they take the necessary measures to control and stop the dissemination of this strain before it spreads globally."
Published by Medicaldaily.com