Seamus Heaney Dead: Nobel Prize-Winning Poet Dies At 74 After Surviving Stroke Complications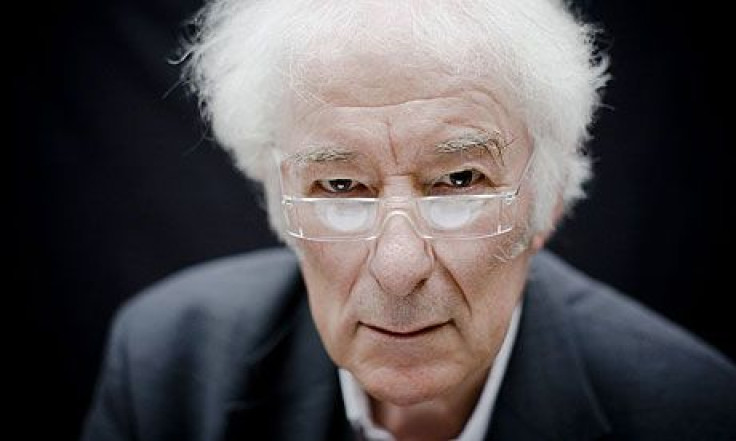 Critically acclaimed Irish poet Seamus Heaney passed away in Dublin on Friday following a short illness, Heaney's family and publisher Faber and Faber said in a statement. Among his many accomplishments including the Nobel Prize for Literature back in 1995, Heaney is considered by many to be the greatest Irish poet since William Butler Yeats.
"We cannot adequately express our profound sorrow at the loss of one of the world's greatest writers. His impact on literary culture is immeasurable. As his publisher we could not have been prouder to publish his work over nearly 50 years. He was nothing short of an inspiration to the company, and his friendship over many years is a great loss," read a statement from Faber and Faber.
Although a specific cause of death for the Northern Ireland-born writer has not yet been confirmed, he had been suffering from complications due to a stroke back in 2006, the Associated Press reported. Besides Yeats and Samuel Beckett, Heaney is the only other Irish-born poet to win the Nobel Prize for Literature.
Reflecting on both the religious and political upheavals facing the people of Ireland not just at his time, but in the past, Heaney's work is highly regarded for having the ability to tug on human emotion. Richard Murphy, New York Review of Books essayist, described Heaney as "the poet who has shown the finest art in presenting a coherent vision of Ireland, past and present."
Works such as "Wintering Out," published in 1972, and "North," published in 1975, tapped into the political turmoil facing his birthplace of Northern Ireland at that particular time. One of his famous poems, "Whatever You Say Something," was eventually adopted as a Northern Ireland catchphrase for not wanting to divulge one's religious affiliation.
Heaney is survived by his wife Marie and three children Catherine, Christopher, and Michael. "His impact on literary culture is immeasurable," Faber and Faber, Heaney's publisher for nearly 50 years, told the New York Times.
"We are blessed to call Seamus Heaney our own and thankful for the gift of him in our national life," said Irish Prime Minister Enda Kenny. "There are no words to describe adequately our nation's and poetry's grief at the passing of Seamus Heaney."
Published by Medicaldaily.com