'Second Impact Syndrome' May Leave Athletes in Wheelchairs, Even After Clean CT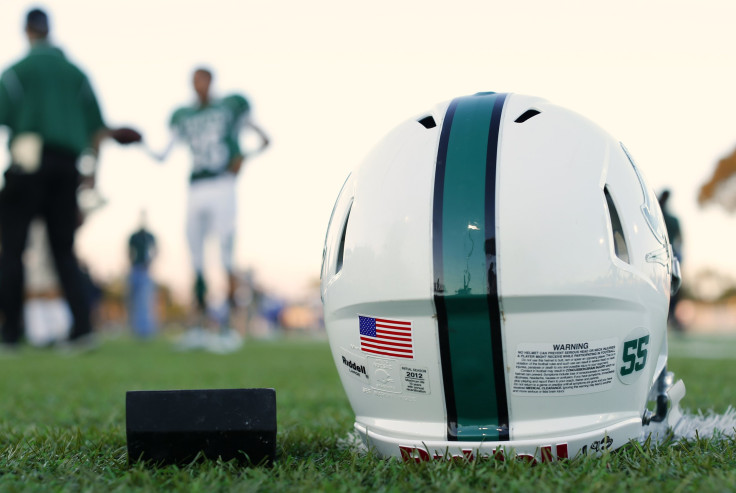 Cody Lehe had suffered a helmet-to-helmet hit that was so hard that he asked his mother to take him to the doctor. Described as "Mr. Tough Guy" by his mother Becky, this request took her by surprise, because he never asked to go to the doctor, according to ABC News. Still, the CT scan came back fine and, in 2006, "true" concussions were characterized with losing consciousness, blurred vision and vomiting. Lehe had none of those symptoms. Though his doctor said to wait until playing, Lehe, the captain of his football team, wanted to be a part of the team's participation in sectional finals.
But the follow-up hit changed his life forever. "The second hit, which was very, very minor; we're even reluctant to call it a 'hit' because it was a really light practice, and they weren't even in full pads," Becky said to Health Day. "It was just kind of shoulder brushing and he was down."
He told a fellow player that his head hurt but that he was all right. Shortly afterwards, though, he fell to one knee, his legs numb, his head dizzy. Then he collapsed, his body pulsating with seizures. Lehe suffered from a coma, massive brain swelling and an irregular heartbeat. He spent 98 days in the hospital.
Lehe was diagnosed with second impact syndrome. An extremely rare and deadly condition, it affects an estimated five players every year. It occurs when a young player sustains a concussive brain injury and then a second one days or even weeks later. According to the National Institutes of Health, the second hit can prompt "diffuse cerebral swelling, brain herniation, and death". The condition is devastating; patients can die within a matter of minutes, and 85 to 90 percent of patients who suffer from the condition die. However, the condition is controversial, in part because of its rarity and the fact that it has never been recorded outside the United States. It has never been recorded in a professional football player, which researchers believe is because the developing brain is more sensitive to injury.
The condition is, in fact, little understood even by the doctors who study it. Lehe's case is profiled in the Journal of Neurosurgery: Pediatrics because his case is the first time that there is brain imaging between the two hits. Researchers had previously believed that patients sustained tiny blood clots that went unnoticed and caused immense damage with the second hit. They also believed that players should remain off the field. Lehe's story shows that both assumptions are false.
In Cody's case, the now 23-year-old's plans for college have been put on hold, perhaps indefinitely. He has regained speech, but he has lost his short-term memory. He can walk on a treadmill for six minutes, but is generally confined to a wheelchair because of his poor balance. Regardless, his progress is a sign to his parents that he has beaten the odds.
Experts say that parents should continue to allow their children to play sports, even contact sports. They should simply be cautious about returning to the field if their child has sustained a concussion. The Centers for Disease Control and Prevention notes that any athlete with a brain injury should be removed from play until given clearance by a doctor to return.
Published by Medicaldaily.com