Shocking Nanny Cam Footage Shows At-Home Health Care Aide Abusing Elderly Stroke Victim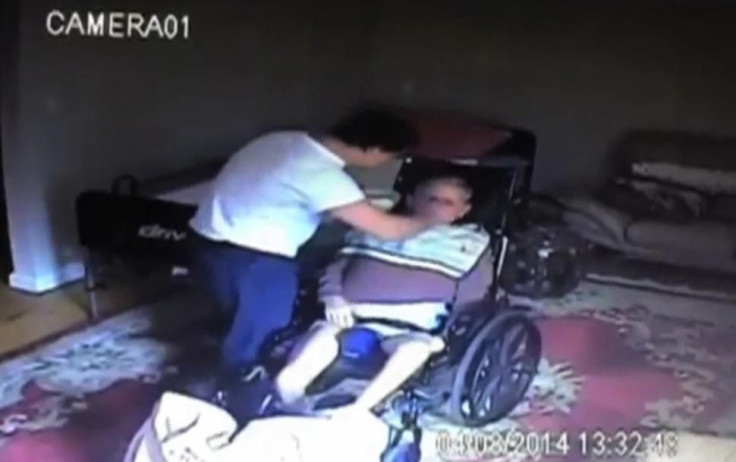 After a stroke left 78-year-old Russian native Bentsion Murakhovsky unable to move the left side of his body, his family knew they would eventually require help caring for the elderly man from Queens when they were not around. At first glance, nursing aide Ihor Krutovskyi seemed like a good fit, since he spoke fluent Russian, but Murakhovsky's family still decided to take certain precautions. Shocking nanny cam footage released by the NY Daily News shows Krutovskyi abusing the 115-pound elderly patient he was tasked with caring for.
Murakhovsky's granddaughter Gabrielle and wife Valentina were concerned that a previous at-home health care aide sent by the Personal-Touch Home Care agency had mistreated their loved one, who also suffers from Parkinson's disease. On Krutovskyi's first day of work, Gabrielle informed her grandfather's nursing aide that he would be on camera and that she would be watching the footage via her iPad. Although Krutovskyi thought he had disabled the camera by removing a wire connected to the TV, he only managed to disable the sound.
Six days after Krutovskyi began "caring for" Murakhovsky, Gabrielle was horrified to find out the aide had been shaking, smacking, and violently pulling her defenseless grandfather while feeding him. Krutovskyi was promptly arrested and charged with two felonies, which included endangering the welfare of an incompetent person and endangering the welfare of a vulnerable elderly/incompetent/disabled person. While he was released on bail on April 12, Gabrielle says she would like to see him in jail.
"If you know that somebody's watching you, I don't think you're going to do something bad," Gabrielle told the Daily News. "He's completely paralyzed and bed-bound. Why would you do that? He's sick as it is. He doesn't deserve more pain."
Click here for the video.
Published by Medicaldaily.com