Signs Of A Concussion Better Recognized In HS Sports, Leading To Doubling Diagnosis Rates Over 7 Years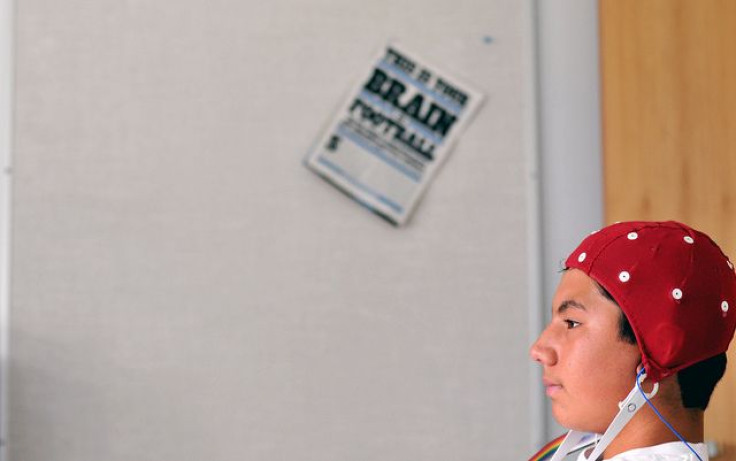 Sidelined, wincing mothers and over-involved fathers tend to set the backdrop for contact sports in high school. And while they may be disheartened to learn concussion rates have more than doubled over the last seven years, it's not necessarily because they're more dangerous.
A new study from The Ohio State University has found that around the 2008-2009 academic year, legislation began to bubble up lengthening an athlete's ability to "return to play" soon after injury. These measures have generated greater awareness and effected real safety changes in many high schools across the country, researchers argue. Concussions aren't happening more often; we're just better at knowing when they do.
"It's scary to consider these numbers because at first glance it looks like sports are getting more dangerous and athletes are getting injured more often," said Joseph Rosenthal, OSU clinical assistant professor and lead author of the study, in a statement. And even though the study itself was observational, meaning it can't prove causation one way or another, based on when the study was conducted Rosenthal says he can extract a pretty clear picture.
"I think in reality it's showing that concussions that were occurring before are now being diagnosed more consistently," he said, "which is important."
Concussions, a form of traumatic brain injury, are characterized by feelings of confusion or loss of coordination following a forceful blow to the head. But many concussions, particularly those sustained during sports, don't result in a loss of consciousness. And often athletes suppress symptoms to stay in the game, Rosenthal explains. For these reasons, diagnosing concussions in-game tends to prove difficult.
To conduct their study, Rosenthal and his colleagues recruited data on 4,024 concussions suffered by athletes in nine sports: boys football, boys and girls soccer, girls volleyball, boys and girls basketball, boys wrestling, boys baseball, and girls softball. They tallied the number of times one athlete was exposed to one sporting event, either a game or practice, and deduced how many concussions were sustained per 1,000 exposures.
The team found that between 2005 and 2012 the rate rose from 0.23 concussions to 0.51 concussions per 1,000 exposures. One theory Rosenthal submits for the rise is that in the 2007-2008 year, the national sports injury surveillance system, known as the High School Reporting Information Online (HS RIO), began requiring athletic programs to report non-sidelining injuries. Under the new mandate, even minor concussions that kept players in the game were being registered.
As Rosenthal sees it, the new guidelines do young athletes a service in motivating long-term protection of their mental health. "If they continue to play while symptomatic, they are at risk for a second impact that can lead to severe disability and death," he said. "If you have symptoms, you've got to rest your brain and prevent further injury in order to recover."
When symptoms aren't available, athletic trainers are increasingly turning to on-field blood tests. Researchers from the Translational Genomics Research Institute, together with Riddell Sports Inc. — one of the largest youth sports apparel manufacturers — has found that a specific protein in the brain acts as a tell-tale sign for concussion risk. This protein can be found in athletes' urine, blood, and saliva.
Even five years ago, these advances weren't being taken seriously, Rosenthal notes. But now that more people understand what evidence of a concussion looks like, those in positions to help are starting to take action, and overall, "there is a greater emphasis on monitoring for injury."
Source: Rosenthal J, Foraker R, Collins C, Comstock R. National High School Athlete Concussion Rates From 2005-2006 to 2011-2012. The American Journal of Sports Medicine. 2014.
Published by Medicaldaily.com