Sinkhole At Disney World: Why Summer Bay Resort Collapse Is A Sign Of A Potentially Huge Sinkhole Problem In Florida [VIDEO]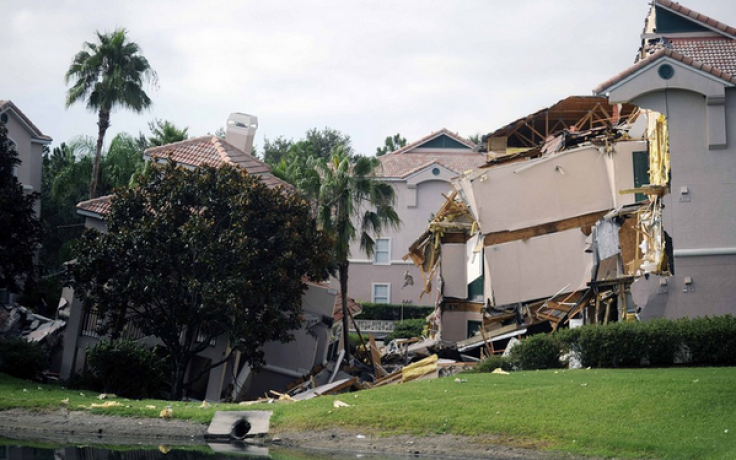 Summer Bay Resort in Clermont, Fla., collapsed suddenly early Monday morning, leaving guests at the Disney resort without their personal belongings, but thankful to be alive. The collapse is one of a series of sinkhole incidents that seem to be affecting Florida. Geologists are still trying to pinpoint why.
According to USA Today, about 30 percent of the central resort structure collapsed around 3 a.m. on Monday. Prior to the collapse, security at the resort evacuated the building so no one was hurt in the surprising debacle. "My heart sunk. I was sick to my stomach," resort president Paul Caldwell said. "No doubt there would've been injuries if they hadn't gotten the building evacuated."
Security guard Richard Shanley is credited with helping to get many of the families staying in the sinking building to safety. He ran through the building waking up guests and telling them to leave immediately. He described the scene as scary and chaotic as children and parents feared the worst.
"Kids were crying. They were saying, 'We don't want to get trapped here. Mommy, we're on vacation. We're here to have fun. This is not what we expected. We don't want to get trapped here,'" Shanley said.
The sinkhole at Disney isn't the first in Florida this year. In February, a man was killed in suburban Tampa when a sinkhole opened under his home, swallowing him and everything in his bedroom. Even famous golfer Tiger Woods may be the victim of a sinkhole, with reports saying that the cracks in the walls of his $60 million mansion in Jupiter Island are likely the result of a sinkhole.
But what is a sinkhole? And why are so many happening in Florida?
According to the U.S. Geological Survey, sinkholes are depressions in the ground that do not have space for water to drain naturally. So, when it rains, the water stays inside the ground with no means of escape. Limestone and other carbonate rocks in soil are especially susceptible to sinkholes. Florida just happens to be a state with a large amount of limestone underneath its soil. Other states with a large amount of carbonate rock-underlain soil include Pennsylvania, Texas, Alabama, and Kentucky.
While sinkholes are becoming a growing concern in the state, officials at Summer Bay Resort say that the buildings surrounding the collapse have been reopened. The resort is trying to ease guests' concerns by saying that "there's no reason to believe that it's going to expand or it's going to grow."
For more information on sinkholes, watch the video below and visit the U.S. Geological Survey online.
Published by Medicaldaily.com