Sleeping Too Much And Not Finishing High School Linked To 600 Percent Increase In Dementia Risk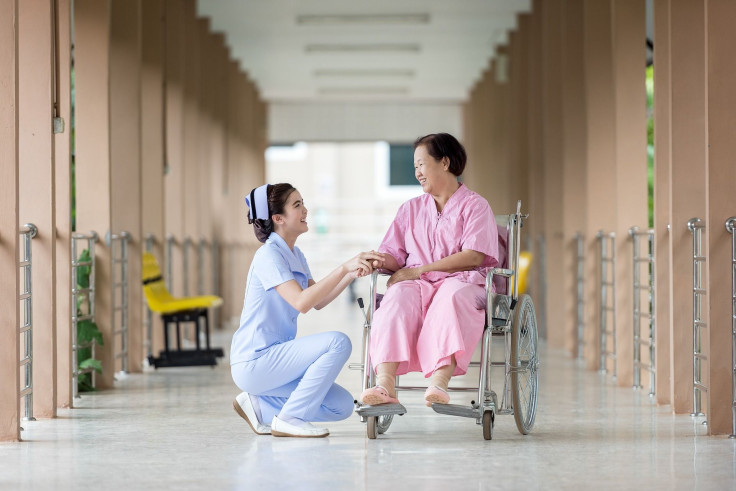 Sleeping more than nine hours a night and not finishing high school are two major signs to look for when it comes to determining dementia risk in senior citizens, according to a new study. Researchers analyzed data from the country's longest-running study looking at diseases, the Framingham Heart Study, to determine dementia risk factors. More than 2,400 subjects, at least 65 years old, responded to questions about sleep habits; 234 were diagnosed with dementia within 10 years of their original responses.
Read: Even More Reasons Not To Drink Soda: New Study Says It May Increase Dementia And Stroke Risk
The team found those who slept more than nine hours had double the dementia and Alzheimer's disease risk. However, there is no evidence that sleeping too much causes dementia. In fact, this could simply be a symptom of the disease. The team believes it's just one more thing to be aware of when taking care of older family members. Researchers also determined that education level was linked to dementia too. Seniors who didn't graduate high school and slept nine hours each night were at 600 percent greater risk of developing dementia.
"There's a widely accepted understanding that education may be of some benefit in delaying the onset of clinical dementia," says study lead author Sudha Seshadri of Boston University School of Medicine in a statement.
The professor believes this information can be used to look for early warning signs in order to seek support and assistance early on.
"One of the concerning things can be that before there is a formal diagnosis of dementia, people can sometimes fall victim to scams," says Seshadri. "They can end up in an unsafe situation, because it's not recognized that they may be able to drive a car; they may be able to live alone at home, but not respond to something unexpected. Recognizing the signs earlier can provide access to services, can enable people to get the admittedly limited, but valuable treatment options that are available, and could help protect them from potentially dangerous situations."
A study in 2016 showed that dementia cases seem to be declining in the United States. The study gathered data of more than 10,000 people over the age of 65 in 2000 and 2012. In 2000, about 11.6 percent of the sample had some type of dementia. In 2012, that figure lowered to 8.8 percent, or the equivalent of about one million people, reports NPR. Medical professionals believe the decline is due in part to the increase of people finishing high school. According to the news organization, the average length of education in this country was 11.8 years in 2000. In 2012, it rose to 12.7 years. More plainly, it went from below high school to high school and some college.
Read: Can Your Diet Prevent Alzheimer's? 2 Healthy Eating Plans To Battle Dementia
As the large generation of baby boomers age, research shows that Alzheimer's diagnosis will put a strain on Medicare. According to the Alzheimer's Association, about $11.86 billion will be spent to cover disease-related costs in 2020. That number is expected to increase to $328.15 billion by 2040, which is about one-fourth of total Medicare spending.
See Also:
Can You Fight Dementia With Food? Chef Paula Wolfert Battles The Disease With Special Diet
Strokes, The Fifth Leading Cause Of Death, Are Mostly Preventable; What To Do​
Published by Medicaldaily.com