Southwest Crash Landing: Minor Injuries, Extreme Flight Delays At New York Laguardia Airport After Landing Gear Collapse [VIDEO]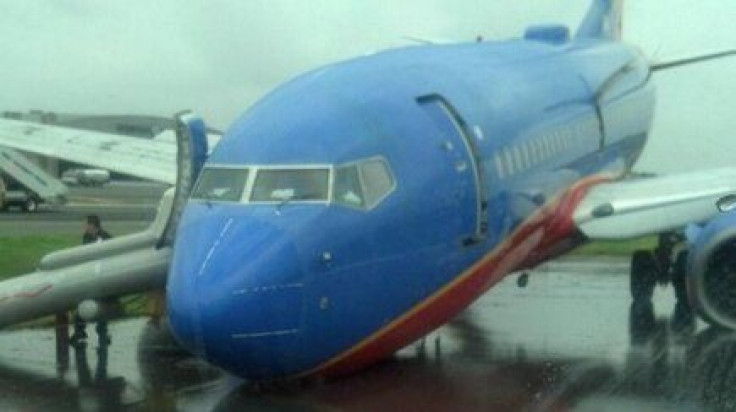 Around 5:45 p.m. on Monday, a Southwest Airlines flight from Nashville crash landed at LaGuardia Airport in New York, injuring at least 10 people and causing extreme delays into Tuesday morning.
Flight 345 left Tennessee at 1:55 p.m. and reported front landing gear issues to U.S. Federal Aviation Administration (FAA) dispatchers as it approached LaGuardia. The Boeing 737 was carrying about 150 people. According to Fox News, 10 passengers were treated at the scene, six of whom were taken to area hospitals with non-life threatening injuries. In addition, six crew members were taken to the hospital for observation after the crash.
LaGuardia was closed to arriving flights for over an hour as passengers were taken to safety by emergency responders at the scene. Immediately following the incident, more than 350 flights were reportedly cancelled on Monday. Tuesday morning, nearly 120 flights out of LaGuardia had been cancelled, and those still set to depart were averaging about 90-minute delays.
Thomas Brosco, director of aviation for the Port Authority of New York and New Jersey, briefed reporters on the incident, saying "the aircraft skidded down the runways on its nose and then veered off and came to a rest in the grass area."
Onlookers said that they saw sparks as the plane landed on the runway. Passenger accounts depict a terrifying scene as people's personal items, including cell phones and food items, tumbled uncontrollably to the front of the plane.
Passenger Anastasia Elliot described the incident as "pretty chaotic." "We hit the ground pretty hard and slid," she said. "There was a lot of smoke filling the plane, just a lot of smoke and burnt rubber."
"I feel extremely blessed to have come off that. It just really felt like the plane could have broken in half, it was such a hard impact," Kathy Boles, another passenger, expanded on Elliott's statement.
Pilot Patrick Smith told Fox News that landing gear problems aren't something pilots usually worry about. "It doesn't happen very often but I need to emphasize just how comparatively minor this is and how far, far down the hierarchy it is," he said. "From a pilot's perspective, this is nearly a non-issue. They make for good television, but this is far down the list of nightmares for pilots."
The FAA and the National Transportation Safety Board are investigating the incident.
Published by Medicaldaily.com