Summer Hair Care: 6 Tips To Keep Curly Locks Healthy And Beautiful In The Heat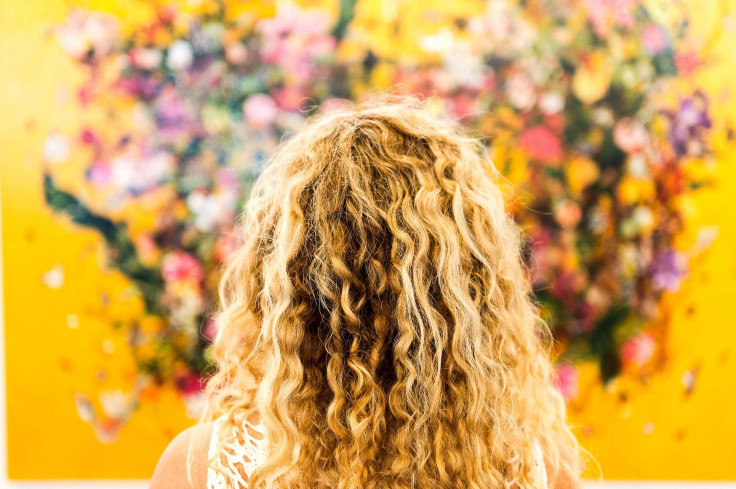 As the summer sun heats up, our skin isn't the only thing we need to pay extra attention to. Our hair also needs a little more TLC during the hot, humid months. For those with curly hair, maintaining your luscious locks during the summer can pose a frustrating challenge. Here's 6 tips on how to keep your curly locks healthy in the heat.
1. Ditch Styling Tools
Instead of turning on the blow dryer or diffuser, consider heading outside. The hot sun is a quick, easy way to let your hair naturally dry during the summertime. But this isn't the only season you should limit the use of hot styling tools. Many curlers, wands and flat irons reach temperatures of 400 degrees Fahrenheit or more, which can cause serious damage to your curls, ruining their shape and stripping them of moisture.
Read: Healthy Hair Tips: 5 Ways To Make Your Summer Hair Shine
2. Choose Products Wisely
With hundreds of hair products on the market, it can be overwhelming to know which to choose. But, the products we put in our hair can truly make or break a good hair day. If you have curly hair, you've likely experimented with many different gels, mousses, serums, sprays, and more. One of our go-to brands is DevaCurl, especially their B'Leave-In and Ultra Defining Gel styling products. The combination of both products leave my curls (Type 3C) soft and light. All DevaCurl products are 100% free of sulfate, parabens and silicon. Many brands and consumers choose to avoid the controversial chemicals because of possible health concerns they've been associated with. Some researchers are concerned low levels of parabens absorbed through the skin can increase the risk of breast cancer. And the problem with sulfate? The detergent can suck the moisture out of hair, damage colored hair, and cause irritation for those with sensitive skin.
3. Apply Conditioner Before Swimming
Before you take a dip in the pool, apply a generous amount of conditioner. "The conditioner will not only moisturize your hair, it will also help protect the hair from harsh pool water. Do not rinse out the conditioner. We want the conditioner to protect your delicate hair strands," Curly Chic advises.
The way water impacts your delicate locks depends if you're swimming in chlorine or salt water. Chlorine clings to your curls and requires you wash it to get it out. Whereas salt water pulls the moisture from your curls. To get the salt out, a simple rinse is good enough, followed by a moisturiser to rehydrate them.
4. Protect From Heat Damage
According to the Cleveland Clinic, UV rays can damage the hair's cuticle. This can lead to discoloration and make hair dry, brittle, and more prone to breaking, thinning, and becoming frizzy.
To avoid this, some protects are naturally able to block out some UV rays, such as shea butter and coconut oil, Naturally Curly reported.
This summer I've used Controlled Chaos, a curl styling serum that also doubled as a UV protectant. Along with protecting my hair from UV rays, this curl creme left my curls extremely soft and touchable. However, the serum didn't hold my curls together as much as I would have liked and I found that I was still mixing it with my favorite gels in order to obtain the hold that I wanted.
5. No Need To Shampoo More Often
During summer, it's a given that you're sweating more than usual, but that doesn't necessarily mean you have to wash your hair more often. Curly hair especially doesn't need to be shampooed as often because it is already naturally more dry than straight hair.
Instead of shampooing your hair everyday, Naturally Curly recommends that you instead simply run your hair under water in the shower with no products at all. In addition, you can simply run a light conditioner through your hair, or you can try a "co-wash" product.
I'm using DevaCurl No-Poo zero lather conditioning cleanser to wash my hair without stripping it too much and I'm very happy with the product. While it may not clean as thoroughly as a deep shampoo, it helps to keep my hair and scalp fresh during the week in between washes, and most importantly it kept my curls moisturized. The No-Poo also smelled great, and left my curls touchable and fresh, without the sweat and product build-up from the day.
6. Don't Fear Moisture
For people with curly hair, moisture is essential and as the temperatures rise this need becomes even greater. While it's important to condition and deep condition during your shower routine, your moisturizing technique doesn't have to end there. You can add a leave-in conditioner after the shower.
This summer I tried Shea Moisture Coconut & Hibiscus Curl & Style Milk for thick curly hair and the Coconut & Hibiscus Curl Enhancing Smoothie to keep my curls hydrated in the heat. While I found the smoothie to be a bit too thick for my hair, I liked the style milk as leave-in conditioner. Neither of these products were very good when it came to styling however, and once again I relied on my go-to hair gel to get the definition I liked.
See Also:
Hair-Care Issues Keep Many African-American Women Away From Exercise
Avoiding Sun Damage To Your Hair: Summer Haircare Guide
Published by Medicaldaily.com