Super Model Gisele Bundchen Kicks Away Haters In Under Armour's Newest Video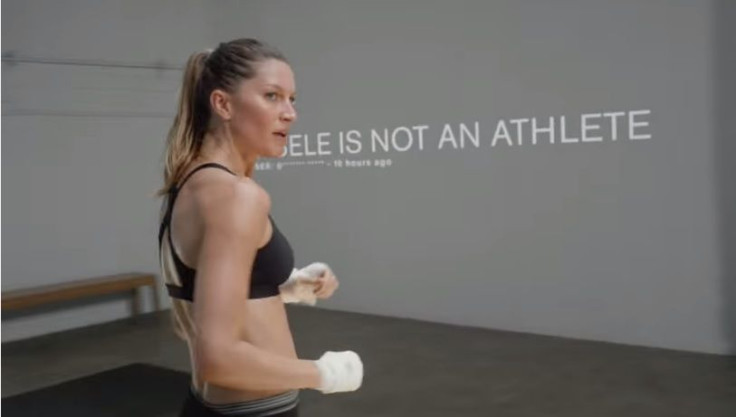 First it was ballerina soloist Misty Copeland. Now, Brazilian supermodel Gisele Bundchen has joined Under Armour's "I Will What I Want" campaign, where she's featured in her own new powerful ad.
Last month, Copeland showed us that even though she had all the odds against her, she still made it as a dancer. Now, Bundchen shares her story. The Brazilian beauty might be a supermodel, but she proves in her ad that she is definitely an athlete too. In the video, she shows off her super-fit body as she kicks and punches a punching bag.
As negative comments pop up on the walls behind her, saying things like, "Gisele is just a model" or "she's nothing special at all," her kicks get even stronger, and the ad ends with a round of strong, repetitive punches. "Having the strength to tune out negativity and remain focused on what I want gives me the will and confidence to achieve my goals," she said in a statement, according to Time.
Pursuing a modeling career didn't come easily for Bundchen. She was turned down 43 times from international fashion shows, but she never gave up. The supermodel finally got her big break, and is now considered an icon not only in the modeling industry but in the fitness world too, her profile on Under Armour's website says.
Under Armour launched its $15 million women's campaign in order to attract more ladies to the brand, and so it could compete with other athletic brands like Lululemon and Nike. Not only does Under Armour want more women to buy its products, but it also wishes to inspire women to chase their dreams no matter what challenges come their way. "This incredibly inspirational initiative serves as a powerful reminder of all the amazing things women can do despite the pressures and criticisms we may encounter," Bundchen said in the statement.
Published by Medicaldaily.com