Supervised Bakersfield Implosion Goes Awry: 1 Man Loses Leg, 4 Others Injured [VIDEO]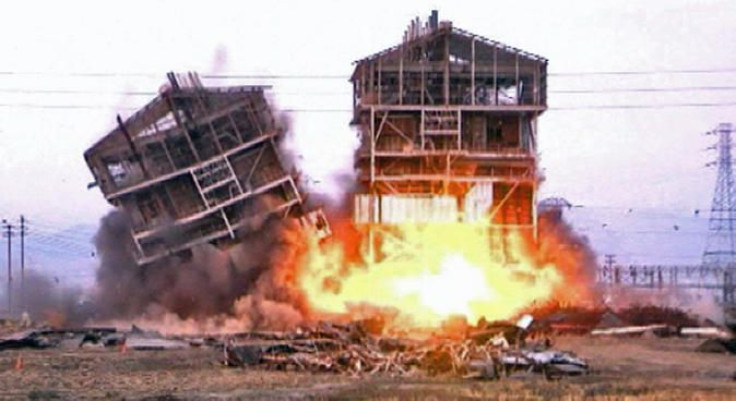 A 44-year-old man's leg was severed and four other spectators were injured during the supervised implosion of a Bakersfield power plant this past Saturday. The 1,000-foot safety perimeter set up by the demolition company overseeing the explosion wasn't enough to protect onlookers from flying debris, the San Francisco Chronicle reported.
According to Bakersfield Police Lt. Scott Tunnicliffe, several pieces of shrapnel were ejected from the controlled demolition of a steam power plant owned by Pacific Gas and Electric Co. The unidentified man who already lost part of his leg in the disaster may also require amputation due to sustained injuries.
"This was a terrible accident, and our hearts go out to the individuals who were injured. We will be conducting a full investigation and will cooperate with the authorities. It would not be appropriate for us comment further at this stage," read a statement issued by Cleveland Wrecking Co., the company hired to oversee the demolition.
The power plant owned by Pacific Gas was decommissioned in 1986 and was considered an eyesore in the California community, the Los Angeles Times reported. Spokesman for Pacific Gas, Denny Boyles, said a few thousand people had gathered around the 1,000-foot perimeter to watch the spectacle.
Both Pacific Gas and Cleveland Wrecking have agreed to comply with an official investigation into the incident. As of now, police are not treating the matter as a criminal case, Tunnicliffe added.
The unidentified man's current condition is unknown as officials at the Fresno hospital declined to comment.
"Our thoughts and prayers are with this man and the others who received injuries," Boyles said. "As a company we are deeply saddened. We're looking for answers like everyone else."
Published by Medicaldaily.com