Syria Faces Infectious Disease Outbreaks And More Deaths From Illness As Doctors And Nurses Flee War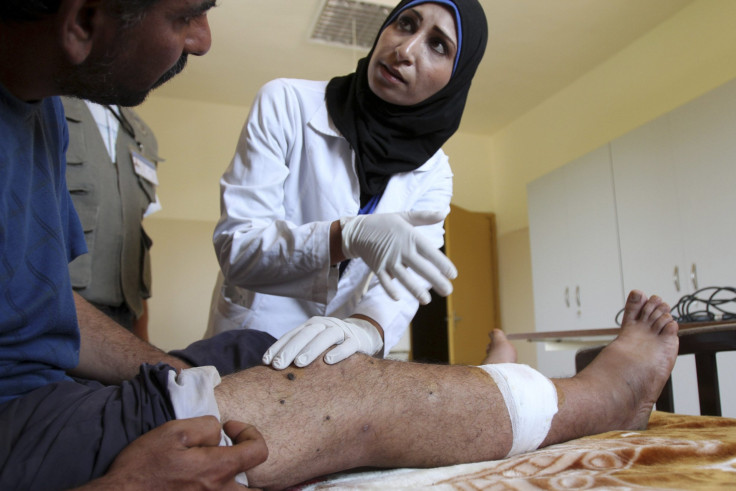 Seventy percent of Syria's medical professionals have fled the country during the two years of civil war that has killed nearly 100,000 people.
As the United States moves heavy weaponry into the region and Russia maintains a small naval presence off the coast, the exodus of the country's doctors and nurses is leading to an even wider public health threat — outbreaks of infectious disease within the country and in refugee camps across the border.
The country's medical system is verging on collapse, investigators concluded in late June in the British medical journal The Lancet. As the rate of disease outbreak rises in the country, one medical clinic in nearby Beirut bustles with activity, treating hundreds of Syrian refugee families, according to Dr. Abdul Kader Abbas.
"With the additional numbers," Abbas told National Public Radio, "we are afraid that any disease could spread easily in such circumstances."
Public health researchers Dr. Adam Coutts and Dr. Fouad Fouad found a dramatic rise in infectious disease, including 7,000 cases of measles in northern Syria during the past few months and a growing caseload of tuberculosis, leishmaniasis, typhoid, and cholera. Normal vaccination programs were disrupted by the war, they reported.
With the near collapse of the country's health system, many Syrians have not received medical care or any medicine for more than two years, with diseases such as cancer and diabetes, type 1 and 2, possibly killing more civilians than the war itself.
As war threatens to spill into neighboring countries, so too is the threat of infectious disease crossing national borders along with refugees. By the end of the year, an estimated 3 million of the country's 20.8 million people have fled the war to refugee areas. In neighboring Jordan, hospital patient loads have risen 250 percent during the past five months, and Lebanon's health system is also straining with the region's highest number of refugees.
"With this huge influx of refugees now in Lebanon," Fouad said, "the number will come to change the whole system."
The U.S. government recently raised foreign aid donations to countries hosting Syrian refugees to more than $800 million, in addition to $300 million promised this month for food, shelter, and healthcare.
"Diseases don't care whether you're for Assad, or against Assad, or uninterested in politics," Anne Richard, the U.S. assistant secretary of state for refugees, told reporters last week while visiting Lebanon. "It strikes everyone, as an equal opportunity."
Published by Medicaldaily.com