Talkspace Launches Support Group For LGBTQ Community In Orlando; The Importance Of Safe Spaces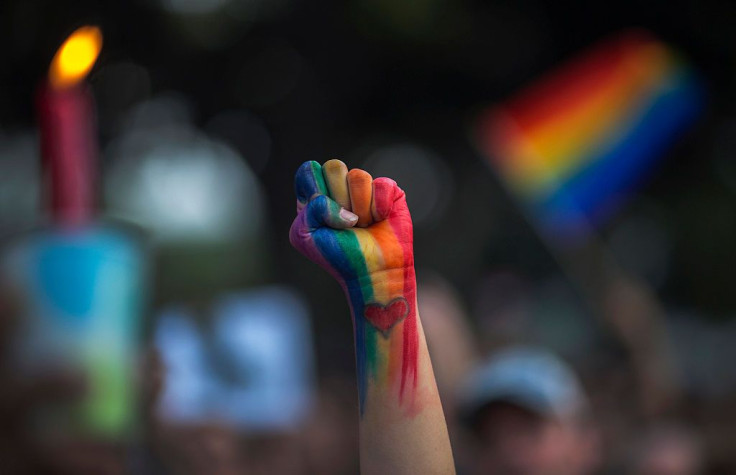 Churches. Concert venues. Gay night clubs. The list of real-world safe spaces is dwindling, so Talkspace is stepping up to offer its support online.
The digital therapy app launched a private Facebook group Monday for the LGBTQ community hurt by the mass shooting in Orlando, Fla. It's not for counseling, said Talkspace psychotherapist Amy Scarano, "it's a therapist-moderated support group that is helping folks create a safe space where they are able to talk about their experiences and possibly connect with others who might be involved." Scarano and her colleagues will lead and moderate the group from 6 to 2 a.m. daily until June 20.
In addition to connecting members with one another — the number of members has doubled since Medical Daily spoke with Scarano yesterday afternoon — therapists will talk about what to expect after a traumatic experience and recommend coping techniques. They will also share other resources, such as a link to Jet Blue's offer of free seats on available flights to and from Orlando for immediate family and domestic partners of victims who were killed or injured. The airline will also waive fees for anyone who needs to make last-minute changes to their travel plans.
Members who aren't comfortable talking to the group can also get private resources, Scarano said. Others are spontaneously supporting each other; as she scrolls down the page, Scarano sees members offering therapy dogs and ways to help collect funds for funeral expenses. Most importantly, she says, the group offers an opportunity to be seen, share freely and safely, and have someone else say "I feel you."
"We're not making referrals," Scarano said. "This is just what we need."
Talkspace has already drawn attention for its efforts to make mental health care more affordable and accessible, and hopefully less stigmatized. Yesterday, TechCrunch reported that the startup had secured $15 million in new funding to launch a number of new features. While the Facebook group does not constitute treatment or therapy, the company says, it's a glimpse into what the app is about.
"It cares passionately and deeply for marginalized populations that do not have access for a variety of reasons — embarrassment, shame, and money," Scarano said.
The LGBTQ community wasn't the only one shaken by the shooting. Orlando is heavily Latino and is unofficially known as the 79th municipality of Puerto Rico. Of the 49 victims, 23 were Puerto Rican and the majority of the others were Mexican, Colombian, and Dominican. NBC News reported that the city is looking for certified translators to assist families in need given that many of the victims left their families and home countries behind with the hope of living more accepted lives in central Florida.
"They come here, come to Kissimmee [Orlando's neighboring city], where you have lechón asado and you can hear Latin music; you can hear our language," Maria Hernandez, who is Puerto Rican and was a close friend of one of the victims, Franky Jimmy DeJesus Velazquez, told The New York Times. "This is little Puerto Rico. That's what it's called."
Talkspace's Facebook group, then, is in a unique position to help friends and families who don't live in Orlando or are struggling with language barriers. Some of the therapists making themselves available focus on LGBTQ relationships and issues, like Scarano, while others do more general psychotherapy and are bilingual. Even outside the group, Facebook has a button to translate posts.
Safe spaces like these can have a positive impact on physical and mental health. One study from Oregon State University found that they can provide an environment in which men are more open and amenable to getting tested for HIV. And several other studies have shown that members of the LGBTQ community suffer from more mental health disorders than heterosexual people. The Advocate reported that depression strikes gay men at a rate six times higher than it does their straight counterparts; nearly half of transgender people are anxious or depressed; and LGBTQ youth, who were also a majority of the Orlando victims, are four times more likely to attempt suicide than straight people.
"It's a shame to admit this, but I work in a profession where you oftentimes make an assumption that folks are open and willing to educate populations — they're not," Scarano said. "A big piece of what we're offering [through Talkspace] is cultural competency and an understanding of a population and their specific needs. As much as we are progressing, homophobia is ever-present."
Scarano said that when it's time for one therapist to log off of Facebook, another picks up where the comments and threads left off. Outside of Talkspace, Scarano works for the U.S. Department of Veterans Affairs, and she's putting all her extra time into the group these next few days, as are all of her colleagues.
"We're coming together as a team to do what's right, and everyone is willing," she said. "I'm not a super cheesy person, but it is a really beautiful team."
Published by Medicaldaily.com