Teens Find Dangers Of Marijuana, E-Cigarettes Unclear, But Understand Tobacco Risks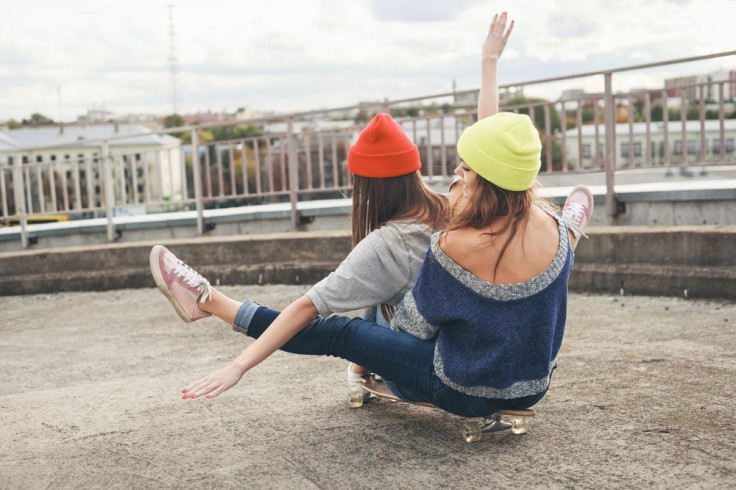 Parents and schools communicate very effectively in some ways but unfortunately not in all, a new Stanford School of Medicine study finds. Teens know all about the risks of smoking cigarettes, but they're unsure whether marijuana or e-cigarettes may be harmful.
"You can't get cancer from smoking weed," the researchers reported one teen saying.
About e-cigarettes, another teen said, "That's what everybody's saying. 'There's no nicotine.' 'It's good for you,'" the authors reported.
Unsurprisingly, cigarette smoking among teens is waning, while their use of e-cigarettes and marijuana continues to rise.
How Teens See Things
Between 2011 and 2013, a threefold increase in e-cigarette use — from 1.5 percent to 4.5 percent — occurred among high-school students. For teens, rates of e-cig and marijuana use during the past 30-days trended higher than past 30-day use of conventional cigarettes, according to the most recent Monitoring the Future report.
For 10th graders, rates of use during the past month for e-cigs, marijuana, and conventional cigarettes were 16.2 percent, 17.6 percent, and 7.2 percent, respectively. For high school seniors, rates were 17.1 percent, 22.6 percent, and 13.6 percent, respectively.
To better understand how teens see things, Dr. Maria Roditis, lead author and postdoc student, and Dr. Bonnie Halpern-Felsher, senior author and professor of adolescent medicine, hosted conversations for 24 teens. All of them known to be big substance users, the teens discussed their perceptions of the risks and benefits of regular cigarettes, e-cigarettes, and marijuana. Meanwhile, the researchers recorded their remarks.
Generally, the teens saw little or no benefit in smoking regular cigarettes. In fact, they commented on several negative effects, including yellow teeth, bad breath, and disease. Even their social norms discourage cigarettes, they said, explaining how smoking marijuana as a joint — rolled in paper — was considered weird because it looks too much like a cigarette.
Conversely, these same teens saw benefits to getting high, believing marijuana to be safer and less addictive than tobacco. They also felt a great deal of peer pressure to smoke pot while understanding little about possible health risks, the study found.
Meanwhile, their parents, teachers, and the media had warned them against cigarettes. Though these same three sources discouraged using pot, the drug is prevalent and difficult to refuse.
E-cigarettes, on the other hand, look pretty good to these students who receive few and informal messages about them. Some said their older family members used them to try to quit conventional cigarettes. Pretty much no one understood the possible health risks.
"Kids were really good at describing the harmful things that happen with cigarette smoking, but when we asked about other products, there was a lot of confusion," said Roditis in a press release.
"We need to do a better job with other products that teens may smoke," Halpern-Felsher added.
Source: Roditis ML, Halpern-Felsher B. Adolescents' Perceptions of Risks and Benefits of Conventional Cigarettes, E-cigarettes, and Marijuana: A qualitative Analysis. Journal of Adolescent Health. 2015.
Published by Medicaldaily.com