Thanks, Google: Now You Can Discuss Your Health Woes With Doctors Over Video Chat
It goes without saying that if you have an ache or pain, you probably shouldn't look it up on the Internet — you might begin worrying that pain in your neck is a tumor and not just stress.
But the days of Googling your medical symptoms in the hopes of finding the answer on WebMD or sketchy discussion boards might be over. The Internet, after all, can be pretty useless when you search for medical conditions in an attempt to diagnose yourself; it usually exacerbates your anxiety.
Google is trying a new feature that will allow users to face-time directly with doctors after they search symptoms or illnesses. Connecting users with doctors over the Internet is an attempt, in part, to reduce the number of self-diagnosed hypochondriacs out there. The trial is an extension of sorts of Google Helpouts, which gives people a chance to speak to experts over live video on a wide range of topics, including "teachers, counselors, doctors, home repair specialists, personal trainers, hobby enthusiasts, and more," Google writes. The company will be bringing in medical experts and doctors from groups like Scripps and One Medical.
Jason Houle, a web developer who works for Walt Disney World, spotted Google's trial when he searched for knee pain, and posted a screenshot on Reddit: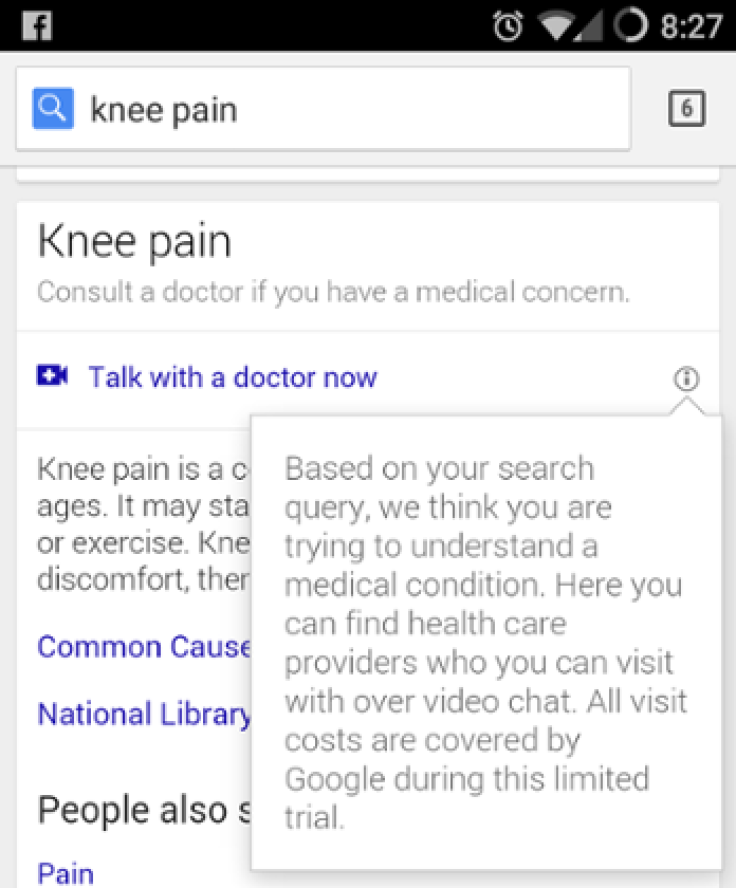 "Based on your search query, we think you are trying to understand a medical condition," Google says in the advice box, based on Houle's screenshot. "Here you can find health care providers who you can visit with over video chat."
The trial, which will be available only in California and Massachusetts, will be completely free, covered by Google. "When you're searching for basic health information — from conditions like insomnia or food poisoning — our goal is to provide you with the most helpful information available," a Google spokeswoman told The Guardian.
Whether or not this will fly will remain to be seen. While some may want to avoid giving Google all of their personal medical information, the feature could be a godsend to some, who want to get quick information about symptoms from a specialist without having to go to the hospital — or get freaked out on WebMD.
And while some doctors might be against it, others are open to the idea of making telemedicine easier and more widespread in the health care system. "Open source sharing of expertise in a direct-to-consumer context is a bottom-up, disruptive revolution for our failing healthcare system from entirely outside the traditional institutional structures," Dr. Michael D. Fratkin, a palliative care physician in northern California, wrote in the comment section of a New York Times article. He continued:
When symptoms are controlled and people are empowered to make their own choices, even when faced with horrible realities, they make the right choices for themselves and their families ... by definition. Very sick people love avoiding the need to schlep themselves to a clinical setting that's designed to meet the needs of the doctors and institutions. I am seeing my patients in their homes, on their couches while they sip tea in their fuzzy slippers. No getting dressed, no parking, no communicable diseases, no snotty front desk staff. It works, and it is entirely changing my practice.
Published by Medicaldaily.com