Tinder Nurse Educates Male Online Daters On Men's Health, Tells Them To Get Colonoscopy, Prostate Exams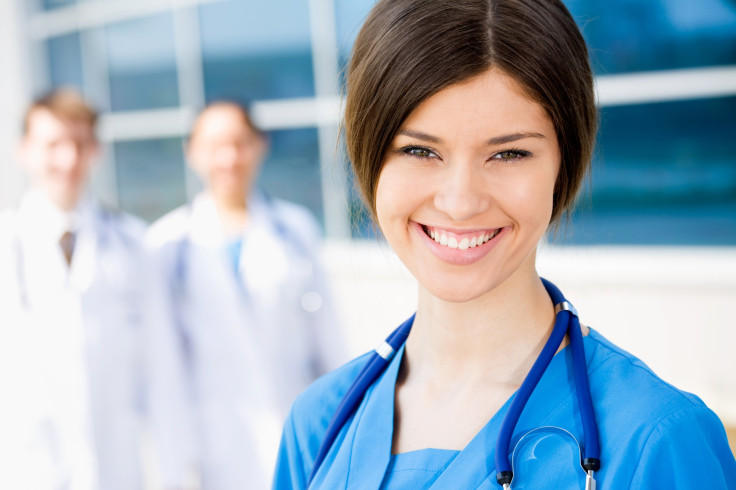 26-year-old Nicole on Tinder is seemingly quite the catch at first glance: she's pretty, young, got a beautiful smile, and works a solid job. This automatically gets her plenty of positive feedback on the online site.
But what many desperate and creepy dudes on Tinder — the online hook-up app — don't know is that Nicole isn't real, but rather a profile used to educate online daters about men's health during the month of June. And that she's a dude.
Tinder provides both men and women a chance to scour their options for quick hook-ups that are in close proximity to their area. But now it's a chance for guys to be reminded of checking their blood pressure, going to their doctor's, and paying heed to the importance of vaccination, blood glucose, cholesterol, as well as cancer — instead of sexting.
Nicole is the conception of two dudes — Vincent Mak and Colby Spear, who were working as creative interns at Razorfish when they came up with the idea of Matches for Men's Health as a personal project. "Steering the conversations towards men's health was a fun challenge for us," Spear told Boston.com. "As a copywriter, I regularly have to think of funny lines for ideas, and Vince is just always a witty guy. We thought of responses to the pick up lines on the fly." He continues: "Nurse Nicole is a 100% stock-photo, fictitious person. When we originally created the Tinder account for her, Vince and I set it up so that we both had her account on our phones. This allowed us both to talk to guys at any time."
Apparently the fact that Nicole's main picture looks like it was downloaded off Shutterstock isn't stopping guys from hitting on her, sending her texts along the lines of, "Hey sexy," or "Are you ready for a baby oil massage?" Nicole's responses, meanwhile, lead to hints about prostate exams, colonoscopies, and other "preventable men's health problems." On the Matches for Mens Health website, Nicole is described as "a Tinder profile created to raise awareness about men's health month in June." The website says: "For the month of June, Nicole is enduring terrible pick-up lines, facing extreme male desperation, and talking dirty to dirtbags in the name of men's health."
The Centers for Disease Control and Prevention (CDC) provides men with ways to celebrate National Men's Health Week, which occurs from June 9-15: Take a bike ride, toss a ball, eat less salt, and consume some more veggies. And prostate health is possibly one of the most important things for guys to pay attention to: over 30 million men suffer from negative prostate conditions. Every year, 230,000 men are diagnosed with prostate cancer, and prostatitis is another major disease affecting men. The prostate is a gland in the male reproductive system that is located below the bladder and in front of the rectum, according to the National Cancer Institute.
Nicole is a "good way to start talking about things men don't like talking about," one commenter, Captain Murphy, writes on ABC News. Not only is Tinder about one night stands, but maybe it's become a vehicle for spreading information about health as well. Visit matchesformenshealth.com to view the various text/sext conversations Nicole has been conducting this month, and don't forget to keep your blood pressure, blood glucose, doctor appointments, and cholesterol in check.
Published by Medicaldaily.com