Tips For Holiday Travel: Which Airline Food Is Healthiest?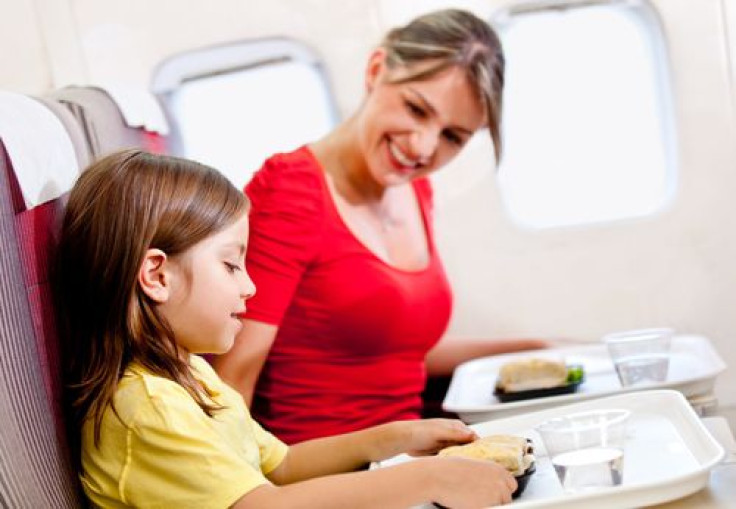 As the holiday travel season is at its peak, with just a few days before Christmas and New Year's, 5.5 million fliers are at haste to find the best travel deals and best airline food. Health-conscious fliers who want to avoid the extra baggage — body weight — will no longer need to sacrifice their waistlines. DietDetective.com's 2013 Airline Food Survey ranks the health selections of 12 major airlines by examining their in-flight foods.
The annual survey was conducted by Charles Platkin Ph.D., diet detective and professor at Hunter College and City University of New York School of Public Health. It highlights the best and worst of in-flight food based on several nutrition factors. Platkin assigned a score of one to five (5 stars = highest rating, 0 stars = lowest rating) to rate the in-flight foods in four ways: based on how healthy meals, snack boxes, single snacks, and other offerings were; the calorie levels of snacks, meals, and snack boxes; improvement over last year's survey; and menu innovation and cooperation in providing nutritional information, ABC News reports.
Virgin America and Air Canada ranked high on the list, each receiving 4.5 stars for their healthy choice options. An in-flight snack or meal on Virgin America averaged 360.75 calories, while an individual snack averaged 270.63. The airline is commended for having the only Travel Light menu and on-demand ordering, whenever the flier wants. The menu includes a roasted pear and arugula salad with almonds and a fig mustard dressing, which can cater to the palettes of the healthy. Their 100-calorie snack, 479 Popcorn Fleur de Sel Caramel, only requires 22 minutes of walking to burn it off, Platkin wrote.
"We're thrilled to have been ranked as having the most healthy food offering among U.S. airlines — once again," said Virgin America spokeswoman Patricia Condon to USA Today. "Our guests tell us regularly that they want lighter options, and as the only airline headquartered in California, we take a lot of pride in offering a menu that features not only the best quality ingredients, but that also offers healthy options to busy travelers on the go."
Despite Virgin America's Travel Light menu, Air Canada is found to have better individual snacks, with the airline priding itself in providing freshness and quality of its ingredients. The airline's meals and snack boxes average 296.90 calories each, with individual snacks averaging 365 calories ranging from celery and carrots with ranch dip to hummus with pretzels.
Airlines that ranked low on the list included Frontier, Southwest, and Allegiant airlines, which served the worst food. Allegiant receives the "Shame on You" award because it was seen as less helpful this year than last year. Platkin reports the airline's food is packaged, and they refused to send them photos of the nutrition facts panels for the survey. The average calorie count for meals and snack boxes was 500.40 and 366.36 for individual snacks, which would require nearly two hours of walking to walking to burn off, Platkin said.
Southwest ranked second to last on the list due to its small selection of unhealthy snacks such as Nabisco Airplane Cookies, Ritz crackers, and Wheat Thins.
Overall, among the dozen airline carriers surveyed the average calorie count per food item dropped from 388 calories last year to 360 calories in 2013. "It's an improvement,'' Platkin said. "The airlines that are doing well are getting better,'' Platkin says, "but there hasn't been much improvement with the lower tier airlines in terms of health."
Platkin believes the airlines can capitalize by implementing a better "better-for-you-health" category for their in-flight food.
Airline Food Survey Rankings
Virgin America — 4.5
Air Canada — 4.5
Alaska Airlines — 4
JetBlue Airways — 3.5
United Airlines — 3.25
American Airlines — 3
US Airways — 3
Delta Air Lines — 2.75
Frontier Airlines — 2.75
Southwest Airlines — 2
Allegiant Air — 1.5
Published by Medicaldaily.com