Ukraine Health System In Danger Of Collapse As Reforms Stall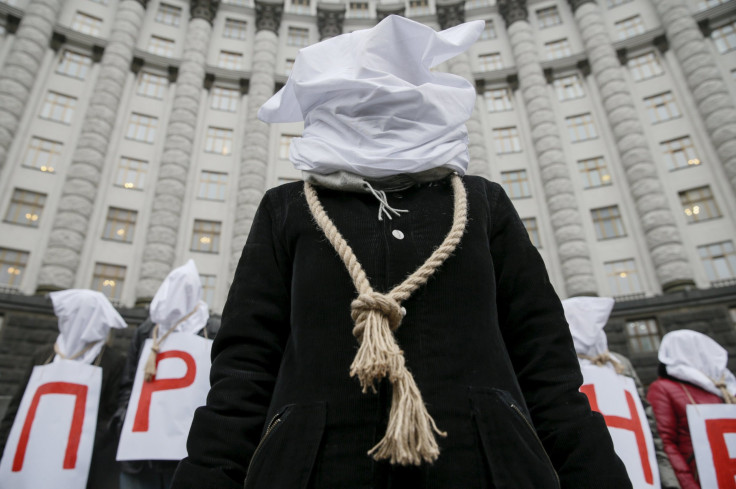 STAIKY, Ukraine (Reuters) - Paint is flaking on the damp walls and cracked ceilings of the small hospital in the Ukrainian village of Staiky and much of the equipment is over 30 years old.
Running hot water is not guaranteed and the hospital, serving about 2,800 people in Staiky and other villages, has not been refurbished since Soviet times.
There is also little hope of a change for the better among medical staff who rely on charitable donations, often from local businessmen, to buy even basic medicines and the petrol needed to visit patients in remote areas.
A reform drive launched by the Western-leaning government installed after a pro-Moscow president, Viktor Yanukovich, was overthrown in a popular uprising last year has become mired in bureaucratic inertia, arguments and allegations of corruption.
"I don't know who is writing and carrying out reforms at the top or if they have ever been to a village and seen how people live and with what medical services," said family doctor Nadiya Martynenko in Staiky, a cluster of dilapidated one-story houses on the River Dnieper, an hour's drive from the capital Kiev.
She said state funds cover only the electricity and meager staff salaries, and that over the past decade "they've cut everything they could and even what they shouldn't ... it's very precarious."
Staiky is far from unique. Soviet-era hospitals across the country of 42 million are crumbling, underpayment of medical staff continues to foster a system of bribe-taking and Ukraine's poor vaccination rate has placed it on a blacklist alongside some of the world's poorest countries, including South Sudan.
Corruption has plagued Ukraine since the country gained independence from the Soviet Union in 1991. But under Yanukovich, it became much worse.
Health Minister Alexander Kvitashvili, one of several foreigners appointed to ministerial positions in the hope that their outsider status and international experience would help Ukraine make good on reform promises, hoped to recreate successful reforms carried out in his native Georgia.
A year after his appointment, the health bill outlining reforms is stuck in parliament.
"It's frustrating. There are vested interests - they're everywhere ... Working with the parliament we differ on what a basic understanding of reform is," Kvitashvili told Reuters.
Without a complete reboot, "financially the system will collapse in about a year, if not faster, because there is no way Ukraine can increase spending to a sustainable level," he said.
DEMOCRACY STRUGGLING
The stalled health bill is one of many examples of the slow progress Ukraine is making in reforming its economy, prompting Western backers to question Kiev's commitment to ending crooked practices that pushed the country to the brink of bankruptcy.
Squabbles in parliament have held up other bills. Some of these are required for the disbursement of funds under a $40-billion international bailout program, and Kiev's Western backers warn that its attempt to rebuild itself on transparent, democratic lines is under threat.
Ukraine's progress has also been hampered by a conflict in the east of the country between government forces and pro-Russian separatists and a deterioration in relations with Russia, which annexed the Crimea region in 2014.
The health ministry's reforms were finalised in April and brought to parliament for approval in July but discussions have dragged on, Kvitashvili said. As he did so, he turned off his cellphone, its ringtone set to the theme tune from TV series Game of Thrones, in which rival clans battle for influence.
Part of the plan focuses on separating the procurement and delivery of health services, a system which until now has allowed most contracts to be brokered in backroom deals with little external oversight.
According to a report by the Anticorruption Action Center, a Ukrainian civil society organization, only six out of 6,500 authorized pharmaceutical companies took part in the procurement of HIV drugs in Ukraine in 2013, sharing among themselves a market worth $30.9 million.
The salaries of doctors are too low to eradicate the use of bribes between patient and practitioner, which means many of the health industry's financial dealings are done in the shadows.
"You can see head doctors driving Porsches and having Vertu phones, but the hospitals are in an abysmal condition," Kvitashvili said.
The "informal" part of the healthcare economy amounts to about $7 billion per year - more than triple the size of the state's annual expenditure on health, he estimated.
Frustration over the lack of progress prompted Kvitashvili to tender his resignation in the summer, only to have it rejected by parliament.
Some commentators have said he lacks the know-how to navigate the web of allegiances that continues to bind Ukraine's ruling class despite avowed attempts to move on from the political cronyism of the past.
"I believe he wants reforms, but he doesn't totally understand the reality of Ukraine - that if someone promises their support it doesn't mean they won't try and trip you up," doctor and healthcare commentator Evgeny Komarovsky said
Alexandra Ustinova, from the Anticorruption Action Center, also said there was a conflict of interests in some of the appointments at the ministry, such as bringing in a lawyer who used to work for a pharmaceutical company owned by a member of parliament from President Petro Poroshenko's party.
"CATASTROPHE"
Giovanna Barberis, the Ukraine representative of the United Nations International Children's Emergency Fund (UNICEF), said "the obstacles (to reforms) are huge and sometimes it looks pretty grim because the pace is extremely slow."
The start of an immunization campaign following an outbreak of polio on Sept. 1 was delayed by several weeks, prompting Ellyn Ogden, worldwide polio coordinator for the United States Agency for International Development (USAID), to criticize the "highest levels of government" for an inadequate response.
She said "no other country in the world is in such a dire situation or shows such disregard for protecting children against childhood diseases."
The Global Polio Eradication Initiative, which is spearheaded by the World Health Organization, said: "For some time, Ukraine has been a catastrophe waiting to happen."
Ukraine did not buy drugs, medicines or vaccines for most of this year as the health ministry sought to approve a temporary procurement system via international organizations to bypass the compromised system that Kvitashvili hopes to reform.
The temporary system was finalised in late October, and Ukraine plans to buy around $100 million of vaccines and medicines, but severe shortages remain.
"There are no anti-diphtheria vaccines in the country," healthcare commentator Komarovsky said.
Meanwhile the more drastic reform bill is languishing in parliament and Kvitashvili says his resignation is still on the table.
"Well my letter is still there. I did not withdraw it. We will see how the Parliament will act," he said by email.
(Editing by Timothy Heritage)
Published by Medicaldaily.com