UN Joins Lèse Majesté Fight as Protest Erupts in Bangkok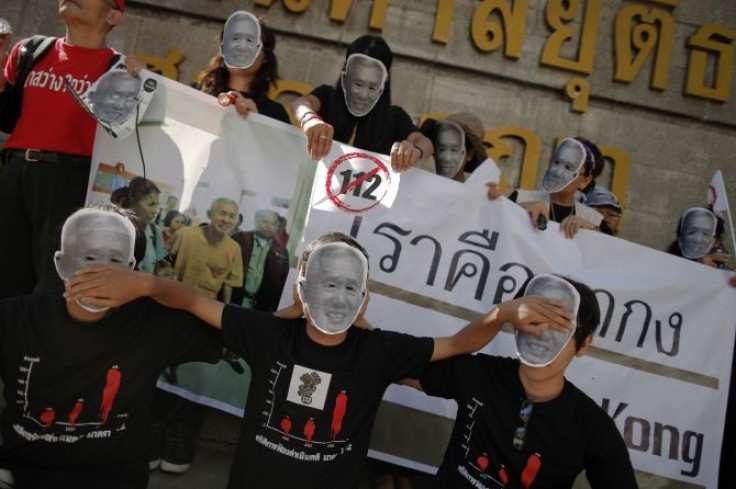 The United Nations and human rights groups have called on Thailand's government to reform harsh laws intended for protecting the country's monarchy, after Thailand sentenced a Sixty-one-year-old man last month to 20 years in prison for sending text messages that were judged offensive to the queen.
"We urge the Thai authorities to amend the laws on lèse majesté. In the meantime, guidelines should be issued to the police and public prosecutors to stop arresting and charging individuals under these vaguely worded laws," said Navi Pillay, a spokesperson for the UN High Commissioner for Human Rights on Friday.
Around 100 demonstrators, supporters of Tangnoppakul in Thailand also made a rare public protest outside the Criminal Court in Bangkok against the country's stringent lèse majesté laws on Friday, according to the AFP.
Some of the protestors wore masks with the face of Ampon Tangnoppakul, 61, who was sentenced last year to 20 years in prison for sending four text messages to a secretary of the- Prime Minister Abhisit Vejjajiva. Tangnoppakul was detained by police in August 2010.
Joe Wichai Commart Gordon, an American man born in Thailand, was also sentenced to 30 months in prison for insulting the king. The sentence sparked protests from the U.S. indicating he was exercising his right to free speech, according to AFP.
Thailand's lèse majesté laws are perhaps the most severe in the world. A person guilty of offending the monarchy can face up to 15 years behind bars under Article 112 of the constitution.
"We are concerned about the ongoing trials and harsh sentencing of people convicted of lèse majesté in Thailand and the chilling effect that this is having on freedom of expression in the country. Such harsh criminal sanctions are neither necessary nor proportionate and violate the country's international human rights obligations," said the UN spokesperson.
The Computer Crimes Act enacted in 2007 contains lèse majesté provisions that have enabled prosecutors to multiply sentences.
"Now we have to be careful about using mobile phones," Kwanravee Wangudom, one of the organizers of Friday's protest, told AFP. "It's a new standard and it shouldn't be that way."
"The severity of penalties being meted out for lèse majesté offenses in Thailand is shocking," Brad Adams, Asia director at Human Rights Watch, said in a statement on Dec.2. "The new government seems to be responding to questions about its loyalty to the monarchy by filing countless lèse majesté charges."
UN Special Rapporteur, Frank La Rue, also on the right of freedom of expression, protested against the lèse majesté laws, saying their vagueness breached international treaties, in a statement.
Published by Medicaldaily.com