Unborn Baby With Heart Defects Undergoes Life-Saving Procedure For Better Blood Flow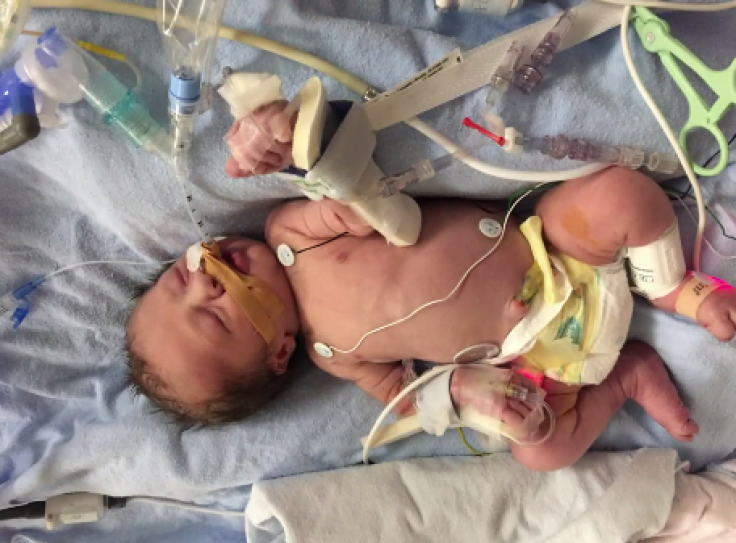 A baby boy in Canada is getting a healthy start in life after doctors performed an in-utero heart surgery, the first of its kind. At 23 weeks of pregnancy, Sebastian was diagnosed with a heart defect that would have prevented proper blood flow and heart function. This prompted doctors at Mount Sinai Hospital and SickKids in Ontario to insert and inflate a tiny balloon in his heart so he could get a chance to develop as a normal child.
"As crazy as it sounded, it was a much better alternative to a caesarean and then having a very short window of opportunity to do the balloon procedure," Sebastian's mom, Kristine Barry, told CTV News.
Read More: Congenital Heart Defects Can Be Prevented By Folic Acid-Fortified Food, New Study Finds
During prenatal checkups, scans revealed Sebastian had a congenital heart defect. His aorta and his pulmonary artery were switched, and he had no openings in the walls between the upper and lower chambers of his heart. This means blood couldn't flow between the chambers to pick up oxygen.
Typically, babies born with heart defects can be sent to the neonatal unit for proper treatment, but the closed walls of Sebastian's heart meant oxygen would not automatically circulate once he loses the oxygen supplied by the mother's placenta. In other words, performing surgery after birth could have led to further complications.
"The clock ticks [so] that you have a few minutes and you start having brain damage and other organ damage," Edgar Jaeggi, cardiologist, head of the fetal cardiac program at SickKids Hospital, and part of the two-hospital team that performed surgery on Sebastian, told CBC.
To avoid a high-risk delivery, Barry and her husband Christopher Havill agreed to have doctors perform heart surgery in the womb. On May 18, doctors at Mount Sinai began to inject drugs through Barry's abdomen to put Sebastian to sleep and paralyze his body to prevent movement. Doctors are only able to do this once, and in order for it to work, the baby has to be aligned in the womb.
Later, Barry was sent to Sick Kids where doctors inserted a fine needle through her abdomen and uterus, and then into Sebastian's upper chamber to pass through the wall to the adjacent atrium. Following, a catheter was fed through the needle and a tiny balloon was inserted and inflated in the wall between the two chambers to create a hole. Once doctors performed balloon atrial septoplasty (BAS), they withdrew the needle and the catheter out of the baby's heart.
The team wanted to perform the surgery close to full-term to get the biggest hole possible; the opening was about 3.5 millimeters in diameter.
Read More: 10% Of Congenital Heart Disease Defects Are Caused By Spontaneous Genetic Mutations Not Found In Parents
Congenital heart defects are the most common type of birth defect, affecting about 40,000 births in the U.S. each year.
BAS is primarily used in newborn children under six weeks of age particularly for those with congenital heart defects. A BAS will enlarge a hole so blood from both sides of the heart can now mix together allowing oxygen to go to the baby's body, according to SickKids Hospital. In Sebastian's case, a second BAS was performed after birth to ensure the atrial opening was large enough along with open-heart surgery to switch the aorta and pulmonary artery to their normal positions.
It's believed to be the first time a baby with a congenital heart defect in which the two main arteries of the heart were reversed received an in-utero BAS. In 2009, doctors at SickKids Hospital and Mount Sinai Hospital performed the first life-saving heart surgery on a baby in-utero by using a balloon catheter. The fetal intervention helped the fetus to grow and stay in the mom's uterus for an extra month (32 weeks gestation) for a healthy birth and a lesser probability of additional health risks.
Barry and her husband are more than thankful for doctors saving Sebastian's life.
"Thank you doesn't seem like enough, but definitely thanks to them for saving my baby's life," she said.
Sebastian is now two months old, weighs 10 pounds, and is meeting all of his developmental milestones.
See Also:
Read More: 3D Printing And Congenital Heart Disease: Heart Models Could Be Used To Plan Treatment
Congenital Heart Defects May Now Be Fixable Without Invasive Open Heart Surgery
Published by Medicaldaily.com