Unhealthy Food Ads Target Minorities, Possibly Contributing To Childhood Obesity
A new study conducted by researchers from the University of Connecticut found black and Hispanic youth are getting a "double dose" of food marketing that promotes products high in sugar, saturated fat, and sodium. The analysis was based on the advertising patterns of 26 of the largest food, beverage, and restaurant corporations in America, revealing they've disproportionately targeted minorities with nutritionally deficient products.
"This report highlights important disparities in the food and beverage industry's heavy marketing of unhealthy foods to Hispanic and black youth, and the corresponding lack of promotion of healthier options," said Amelie G. Ramirez, director of Salud America!, another organization involved in the study, in a press release. "Given the role food marketing plays in influencing the diets of youth of color, there is increasing demand for heightened industry self-regulation and community-based action."
This is not a new issue. In the last 30 years, childhood obesity rates have more than doubled in children and quadrupled in adolescents of all races. However, rates are even higher in minority communities.
In 2011, the Centers for Disease Control and Prevention issued a Health Disparities and Inequalities Report to focus on how they can eliminate disparities. The prevalence of obesity is higher among blacks and Hispanics than whites, and because of that the CDC recommends addressing health disparities among minorities as a priority on federal, state, and local levels.
Researchers examined 267 of the most advertised brands from the 26 corporations, and presented the findings at the National Conference on Health Communication, Marketing, and Media. Out of those 267 brands, they found 48 disproportionately targeted black and Hispanic youth — and minorities weren't the only targeted demographic. These junk food products, the report found, were designed specifically for child and teen consumers.
Companies that sell unhealthy food products were found to spend the most on ads for Spanish-language television and targeted African-American viewers, totaling more than $2.4 million. The ads they spent the most on were McDonald's, Twix Candy Bar, Cinnamon Toast Crunch Cereal, Pop Tarts, Tyson Frozen Entrees, and Gatorade.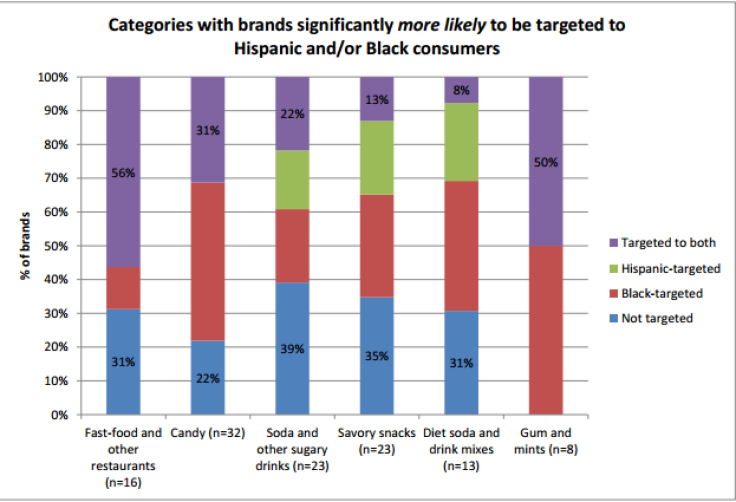 The top offenders don't even try to hide it. According to the report, companies make public statements about their targeted marketing practices. All of the companies in the study publicly referenced strategies that were designed to appeal specifically to Hispanic consumers in order to increase future business growth. They frequently discussed their Spanish-language advertising campaigns and expanding product lines with flavors particularly appealing to Hispanic consumers' tastes.
Coca-Cola has openly commented on how black teens spend more money than other teens, which is why the opportunity to target them has been capitalized on. General Mills and McDonald's have also highlighted African-Americans as their general market to target with initiatives focused on benefiting predominately black communities. PepsiCo has been known to target both black and Hispanic youth through racially identifiable celebrity spokespersons and sponsorships.
"This is a clear case of tactics that must be profitable from the business perspective but at the cost of fostering an environment that promotes poor health in black and Hispanic youth in particular," Shiriki Kumanyika, chair of the African-American Collaborative Obesity Research Network involved in the study, said in a press release.
Source: Harris JL, Shehan C, and Gross R, et al. Food advertising targeted to Hispanic and Black youth: Contributing to health disparities. National Conference on Health Communication, Marketing, and Media. 2015.
Published by Medicaldaily.com