Urban Outfitters 'Depression' Tee Pulled From Site As Manufacturer Defends Shirt: 'We Make Happy Clothes'
Urban Outfitters wants you to know that it likes to push the envelope but doesn't want to glamorize mental illness. The retailer pulled a shirt bearing the word "depression" in various font sizes from sale on its site after social media backlash this past weekend caused the company to think twice. In a tweet, Urban said, "We're sorry to those offended by the tee we bought from the @DEPRESSIONcomsg brand. We were trying to support a small brand, not glamorize mental illness in any way."
While Urban is no stranger to controversy, this one may be a genuine misunderstanding. The brand that produces the shirt is actually called "Depression." It's a small fashion label out of Singapore that was co-founded by business partners Kenny Lim and Andrew Loh. Lim told ABC News that he's surprised by the backlash and wishes that people would have done a little research before placing their own meaning on the shirt. "I was shocked that after one T-shirt people jumped to this conclusion," Lim said. "We make happy clothes."
Lim says that he and Loh created the brand after working at advertising agencies and feeling like they weren't living out their dreams. As a copywriter, Lim says, he felt depressed. Depression (the brand) was born after he and Loh quit their jobs to pursue their dreams. "Out of honesty, we named our design company Depression, as a reminder that design should be honest. As a reminder that we should be happy when we go to work, and we should enjoy what we do every day. And also a reminder that if you are unhappy with your lives, you have the power to change it," Lim said, according to Fashionista.
The word printed on the Urban Outfitters tee was actually Depression's logo. After it sold out in Singapore, Urban approached the designers asking to sell it in the United States. Lim and Loh obliged, and outraged U.S. consumers voiced their concerns on Twitter. "I dealt with depression and anorexia/bulimia for 5 years," one person tweeted. "This is so offensive. #DepressionIsntAFashionStatement." Another person tweeted, "Well done, you've made it even harder for people genuinely suffering to be taken seriously."
Urban Outfitters' executive director of women's apparel released this apology to Fashionista:
We did not create the Depression brand logo tee shirt, and it most certainly was not a social statement of any kind. It was brought to our attention that customers were offended by the product. Though is was not intended to exploit mental illness, we respectfully removed the product as to not further upset anyone. We're sorry to those offended by the tee.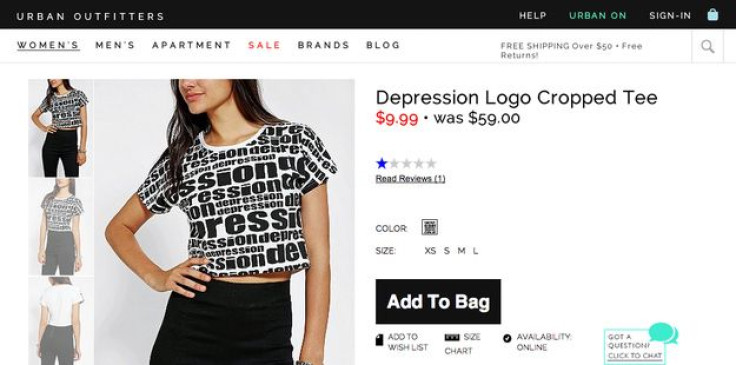 Published by Medicaldaily.com