U.S. FDA Chief Urges Action on Drug Compounding Safety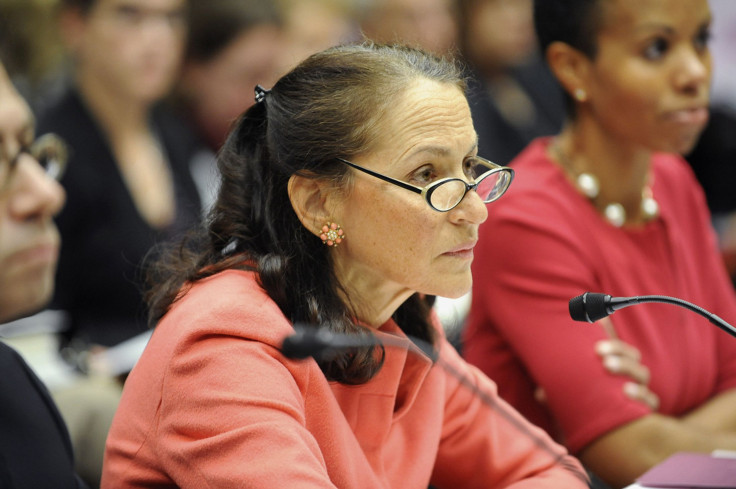 The top U.S. drug regulator on Wednesday urged state officials to help close regulatory loopholes involving the safety of compounded drugs, such as the tainted steroid injections at the center of a deadly fungal meningitis outbreak.
At a day-long meeting with officials from all 50 states, Food and Drug Administration Commissioner Dr. Margaret Hamburg called for new regulations to head off future public health disasters.
Health officials should have clear authority to monitor drug compounding operations and act before problems that endanger public safety erupt, she said.
"We have all been stunned and horrified by the magnitude of the devastation," Hamburg told state delegates.
"Clearly, it's imperative that we close the gaps in oversight," she added. "The fungal meningitis outbreak is the most tragic but not the only example of why we must act now."
In one of the biggest U.S. public health crises, 620 people in 19 states since mid-September have contracted fungal meningitis traced to epidural injections for back and joint pain produced by Massachusetts-based New England Compounding Center. Thirty-nine patients have died and as many as 14,000 other have been exposed to the tainted drugs, according to the U.S. Centers for Disease Control and Protection.
The state health and pharmacy board officials made up the latest gathering of stakeholders FDA has approached with a plan the agency hopes Congress will turn into legislation.
In the weeks before Wednesday's meeting, the FDA held discussions about the regulatory landscape with over 50 groups representing pharmacies, consumers, hospitals, clinics and medical professionals.
But states could be most central to the questions about regulation because they currently serve as the main regulators of drug compounders.
Drug compounding is a traditional pharmacy practice that occurs when a licensed pharmacist alters or recombines drug products in response to a physicians' prescription for a specific patient, who may be unable to take the standard version of a treatment due to age, allergies and other conditions.
In recent decades some compounding pharmacies, including the now-shuttered NECC, have dramatically expanded into large-scale production that rivals those of full-fledged manufacturers but escapes the stringent safety and efficacy standards that FDA imposes on drug makers.
ILLEGAL MANUFACTURING
The FDA plan would leave states with responsibility for overseeing traditional compounding pharmacies but impose new federal standards on large-scale compounders that could be carried out by the agency, or in partnership with states, with clearer congressionally mandated authority.
Experts say some state governments could be ill-equipped to take on large-scale compounding oversight, especially at a time of tight budgets.
State officials at the FDA meeting appeared to be divided, with some saying they are adequately funded and staffed while others said a new federal role may be necessary to ensure regulatory consistency across state lines.
"Do the states have the ability right now to provide oversight if you consider what an entity like NECC was doing?" said Cody Wiberg, executive director of the Minnesota Board of Pharmacy. "The answer to that question is that it depends on the states."
FDA officials say their current authority is limited by conflicting federal court rulings over the years that prohibit the agency from inspecting company records and facilities in some U.S. states but allow it in others.
But critics, including many Republican lawmakers, say FDA has enough authority and instead fell down on the job.
Last month Hamburg came under withering attack during a House of Representatives committee hearing from Republicans who accused FDA Of failing to exercise its authority to act against NECC, despite problems dating back a decade, including earlier instances of contaminated steroids.
On Wednesday, the Republican chairman of the House Energy and Commerce Committee accused FDA of failing to provide requested internal documents dealing with meningitis outbreak.
"Without this information, we are unable to identify any possible weaknesses and as a result, the necessary corrections," committee chairman Fred Upton said in a statement.
Some critics also claim that Hamburg's plan could jeopardize drug safety, if new rules allow large-scale production to go forward under safeguards less strict than those now applied to drug manufacturing.
"The FDA's proposal for oversight of 'non-traditional' compounding, if implemented, would decriminalize what is now illegal drug manufacturing conducted under the guise of pharmacy compounding," Dr. Michael Carome of advocacy group Public Citizen's health research group said in a statement.
The window of opportunity for legislation is closing, but some experts remain optimistic about the prospect for action in 2013 given the scale of the meningitis outbreak and ongoing investigations in the House and Senate.
"They're working very hard on this," said Allan Coukell, medical programs director for the Pew Charitable Trusts. "All the signals are that this will be an issue for them to focus on in the next Congress."
@ 2012 Thomson Reuters. All rights reserved.