Venom Experts Say Global Snake Bite Death Tolls 'Grossly Underestimated'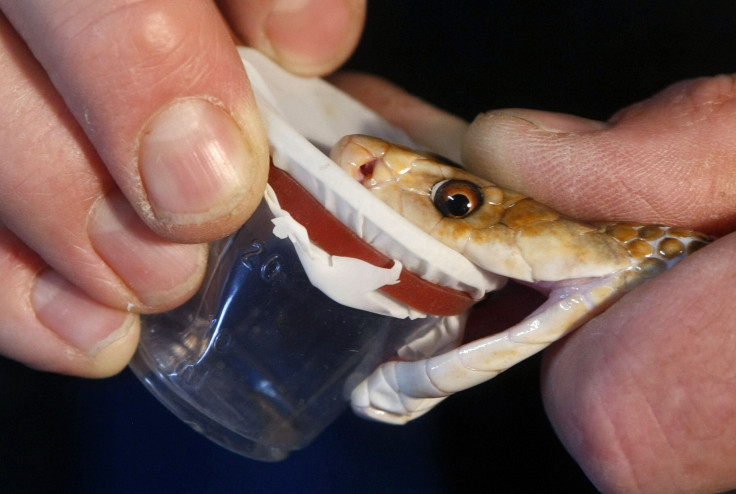 LONDON (Reuters) - Venom specialists said on Wednesday disease and disability caused by snake bites is far higher than official global health estimates suggest and antivenom stocks are running dangerously low.
In a joint statement after a five-day conference in Britain, the international experts said snake bites kill more people than all other so-called Neglected Tropical Diseases combined, yet get little attention or funding from the World Health Organisation (WHO) or from governments.
Citing new evidence from a study in India and Bangladesh, the experts said around 46,000 people died annually of snake bites in India, plus another 6,000 in Bangladesh. The WHO estimates the annual death toll in India from snake bites is 10,000.
"Snake bite ... is almost completely ignored and grossly underestimated," said Alan Harvey, head of the International Society of Toxinology, who led the meeting.
"WHO and governments need to ... rank snake bite where it belongs -- as a very real public health and medical concern which needs funding, training and focus."
Bites from snakes such as cobras, mambas and vipers mainly affect people living in rural areas of sub-Saharan Africa, South Asia and Southeast Asia with scant health facilities nearby.
Antivenom treatment can cost between $250 and $500, the experts said, meaning many victims either seek no treatment at all or go to local witch doctors or herbalists.
Despite high death rates, the WHO in 2013 downgraded snake bite to a "neglected condition" with no formal program on how to address it as a health threat, the experts said.
The specialists also warned that antivenom stocks are running "dangerously low" in many risk areas and said there is a "real crisis in the quantity and quality of antivenoms in rural areas, where they are needed most".
Even where antivenom stocks are good and of high quality, there is often a shortage of medical staff trained in how to administer them safely or effectively.
Published by Medicaldaily.com