[VIDEO] Sloan Churman: Deaf Woman, 29, Hears Herself for First Time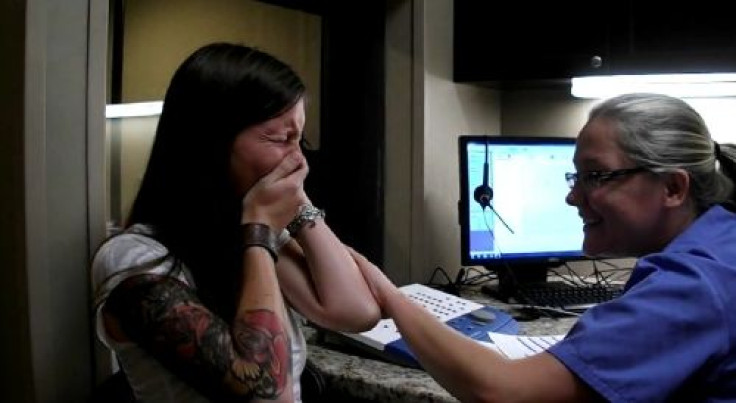 The emotional reaction of a joyful 29-year old woman hearing her voice for the first last week after undergoing surgery to have a hearing implant was captured by her husband in a video posted online.
Sloan Churman, 29, who was born deaf underwent surgery eight weeks ago, according a posting made along with a video of her reaction on YouTube.
In online comments to the video sharing site, she said hearing aids she had worn previously would "only help so much." She said she had gotten by so far in life by reading lips.
The video, posted on Monday, was taken as the implant was being activated, capturing her tearful reaction.
She wrote:
"I was born deaf and 8 weeks ago I received a hearing implant. This is the video of them turning it on and me hearing myself for the first time :) Edit: For those of you who have asked the implant I received was Esteem offered by Envoy Medical."
The company acknowledged the event in a brief statement noting the video went "viral" on YouTube.
In a comment posted later Churman wrote she wished her husband had recorded "a little longer but he was crying himself and wanting to bounce around the room. :)"
On YouTube, Churman was asked by a poster how she can speak on the video so clearly despite being deaf. She replied:
"My whole life I've been complimented on how well I speak. I don't really have an answer for you other than I have always had a passion for reading, grammar, and English. My hearing loss was/is considered severe to profound. I've worked very hard to be able to interact and blend in.....only thing I can say is 'God is good'."
See the video below:
Published by Medicaldaily.com