Virginia Man Receives the "Most Extensive Full Face Transplant to Date"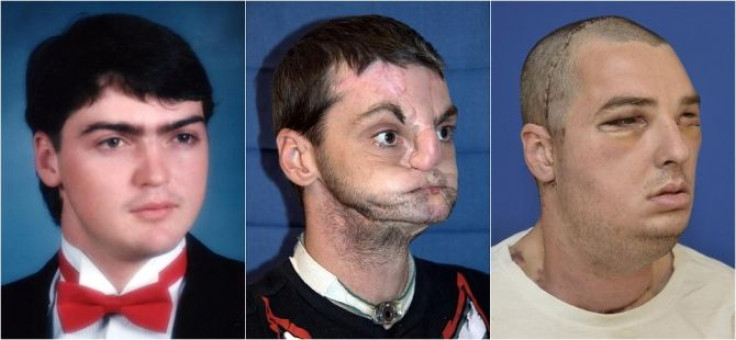 A 37-year-old Virginia man who was injured in a 1997 gun accident has received the most extensive full face transplant ever performed which consisted of a new face, teeth, tongue and jaw.
University of Maryland Medical Center officials announced Tuesday that Richard Lee Norris of Hillsville is recovering well from the 36-hour operation, which happened on March 19 and 20. Doctors say that Norris has regained his smell, is beginning to feel his face and is able to move his jaw, open and close his eyes, shave and brush his teeth.
Norris of Hillsville, Virginia, had suffered a gun accident in 1997 that left him with only a skull, eyes and part of his jaw, and doctors said in a press conference on Tuesday that he had lived in recluse and wore a prosthetic nose and a mask even when he entered the hospital for the transplant.
The groundbreaking face transplant was part of a 72-hour marathon of organ donation at R Adams Cowley Shock Trauma Center at the University of Maryland Medical Center which involved a multi-disciplinary team of faculty physicians and a team of over 150 nurses and professional staff, in which five patients had received organs from one anonymous donor.
Doctors had started the surgery at 4a.m. on Monday, when the team began a 12-hour effort to remove the face from the donor. After surgeons had connected the bones, muscles, tongue, nerves and blood vessels to Norris while using computers to guide them. The surgery was finally complete at 4 p.m. on Tuesday.
"We utilized innovative surgical practices and computerized techniques to precisely transplant the mid-face, maxilla and mandible including teeth, and a portion of the tongue. In addition, the transplant included all facial soft tissue from the scalp to the neck, including the underlying muscles to enable facial expression, and sensory and motor nerves to restore feeling and function," explains Dr. Rodriquez. "Our goal is to restore function as well as have aesthetically pleasing results."
The latest operation marks the 23rd face transplant since doctors began doing the procedure in 2005, and the university said in a statement that the operation marked the first time that a team of plastic and reconstructive surgeons who specialized in craniofacial surgery and reconstructive microsurgery collaborated on a full face transplant,
Physicians said that the procedure was made possible by to the generosity of the donor, the collaborative effort of all the experts involved, as well as the scientific advancement that enabled the transplant.
Dr. Stephen Bartlett, who chairs the department of surgery at the University of Maryland School of Medicine said that the development of this procedure was based on a decade's worth of research funded by the Department of Defense's Office of Naval Research into the immunologic response to these composite transplants and ways to overcome technical problems to help war veterans injured by explosive devices in Afghanistan.
"This accomplishment is the culmination of more than 10 years researching the immune system's response to vascular composite allograft transplants," Bartlett said in a statement. "Our solid organ transplant immunosuppressive protocol has led to excellent outcomes for our patients and will be part of the long-term care plan for the face transplant patient."
"We believe that scientific finding will allow Mr. Norris to have much more long term chance of success with much lower levels of immunosuppression," Bartlett said.
Doctors said that Norris has seen his new face, and three days after surgery "he wanted to see a mirror," Rodriguez said.
Rodriguez said after Norris saw his new face, "he put the mirror down and thanked me and hugged me."
Published by Medicaldaily.com