Weight Gain Associated With Smoking Cessation May Increase Heart Disease Risk In People With Mental Illness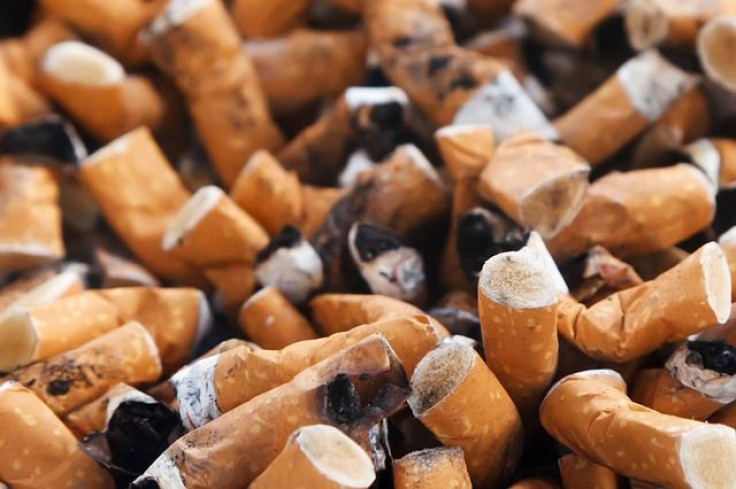 It's widely known that smoking is bad for you — in fact, cigarette use harms nearly every organ of the body, including the heart. While quitting is the ideal move for heavy smokers, many put on weight once they do quit, which can lead to obesity and other health issues. Researchers from the Massachusetts General Hospital evaluated patients with serious mental illness who quit smoking to examine whether the benefits of quitting outweigh the risks for their study published in the Journal of Clinical Psychiatry.
Cigarette smoking is the leading preventable cause of death in the U.S., responsible for more than 480,000 deaths each year, according to the Centers for Disease of Control and Prevention. Quitting smoking has been linked to a reduced risk of heart disease, stroke and many types of cancers.
The study, led by Dr. Anne Thorndike, found that adding weight after quitting smoking does not increase the risk of weight-related health problems that cancel out the benefits gained from quitting smoking. However, the study authors said they can't rule out future health risks associated with continued weight gain.
"These findings highlight the importance of smoking cessation among this vulnerable population," Thorndike, lead author of the study, said in a statement. "But they also indicate that continued weight gain associated with tobacco cessation is likely to contribute to a rise in the already high rates of obesity, diabetes and hypertension among people with serious mental illness."
Thorndike and her colleagues analyzed data collected from 65 smokers with serious mental illness who participated in a clinical trial of the drug varenicline (Chantix), a smoking cessation aid. They examined the differences in weight gain and other factors between 33 participants who abstained from smoking during a 40-week follow-up period and 32 who resumed smoking. Researchers focused on the effects smoking cessation has on patients with mental illness because most studies regarding this topic have excluded people with serious mental illness, which made them wonder whether people with mental illness would share the benefits seen in the general population.
At the start of the study, the majority of the participants in both groups were obese. At the end of the follow-up period, people who abstained from smoking had an average weight gain of 10 pounds compared to the average weight gain of 2.5 pounds gained by those who resumed smoking. However, the risks for developing cardiovascular disease in the next 10 years remained lower in the abstinent group than for those who relapsed.
Most weight is gained in the initial three months after smokers have quit, however, weight gain among study participants who abstained from smoking continued during the 40-week follow-up period. Those who abstained also experienced greater increases in blood sugar levels than those who went back to smoking. So this means that even after they quit smoking, people with mental illness will continue to be at a higher risk for cardiovascular disease because "of higher rates of diabetes, hypertension and elevated cholesterol due to worsening obesity," researchers concluded.
"Smoking cessation needs to be a priority for adults with serious mental illness, and there is now good evidence to support using cessation medications such as varenicline and nicotine replacement to help these patients," said Dr. Eded Evins, who led the Chantix clinical trial. "However, it will be important in the future to address behavioral and medical health in a more integrated fashion."
Based on the findings, Thorndike said smoking cessation programs should address multiple health behaviors and incorporate diet and exercise interventions to be more successful at reducing cardiovascular risks, especially in those with serious mental illness.
Source: Thorndike A, Achtyes E, Cather C, et al. Weight Gain and 10-Year Cardiovascular Risk With Sustained Tobacco Abstinence in Smokers With Serious Mental Illness: A Subgroup Analysis of a Randomized Trial. The Journal of Clinical Psychiatry. 2016.
Published by Medicaldaily.com