West Nile Virus Surveillance Tools Available To Report Dead Birds Online: How To Handle A Dead Bird Safely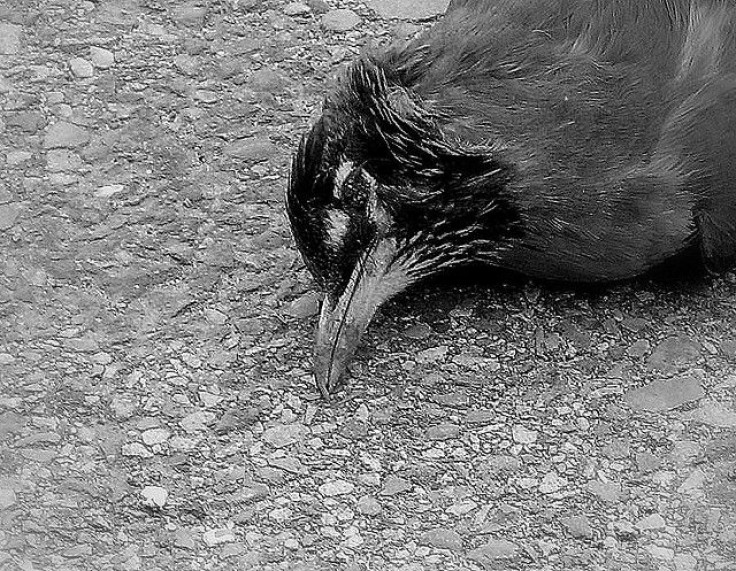 Late summer is a season for West Nile, which in addition to feverish human cases, often leaves a trail of dead birds in its wake. Now, residents of DuPage County in Illinois are using a new online health surveillance tool to report possible vectors of West Nile virus.
West Nile virus, known to be transmitted from mosquitos to humans, also frequently resides in birds along the way. By analyzing the surveillance data, county health officials are better able to track West Nile activity and decide on the deployment of mosquito control resources. Residents are encouraged to report birds dead for 48 hours or less, including crows, blue jays, grackles, starlings, robins, cardinals, sparrows, finches, hawks, and owls.
Since July 3, more than 100 reports concerning dead birds have been reported to DuPage County officials for investigation, as residents make calls during nature walks or whenever the Labrador retriever makes an interesting find in the backyard.
Read More: A Cookbook For West Nile Virus: The Best Ingredients For An Outbreak
"We consider that excellent because it's something that's new this year that we'll build on," Dave Hass, spokesman for the county health department, told the Chicago Tribune. "We think residents are receptive to it."
A similar online reporting system in neighboring Cook County has since July 17 drawn two dozen surveillance reports, according to Amy Poore, director of public relations for that county's health department.
"We've come so far with technology, why not have a dead bird reporting form online," Poore told the Chicago Tribune. "You can file a complaint for many things on our website, it just seemed like the next step."
"It allows us to look by time and location and helps us identify hot spots that may have increased West Nile activity," Hass said.
DuPage County's website also features an index showing surveillance activity throughout the county, with advice for avoiding West Nile virus. Thus far, the disease has been less prevalent this year compared to last, with no human cases. Last year, 56 people were infected with the virus. Likewise, Cook County has seen no human cases this year, compared to 75 by September, the end of the mosquito season.
Read More: 2012 West Nile Outbreak Was The Deadliest In US History: CDC
"Because it's driven by weather, it is slow, but that can change rapidly," Hass said. "We can go from low numbers and within a few days, the activity could ramp up pretty quickly if we get really hot, dry weather."
What You Can Do To Prevent West Nile
Whether residents face high or low risk from West Nile virus throughout the mosquito season, experts advise protection with insect repellent, covering arms and legs. Property owners, too, should drain any pools of standing water, where mosquitos are known to breed.
For those outside of Cook and DuPage Counties, you can still report dead birds to local and state health departments. Professionals may come by to investigate and collect the bird, or they may instruct you to dispose of it yourself. Whatever the case, do not handle a dead bird with your bare hands. Use disposable gloves or an inverted plastic bag to handle the bird, and place it in the trash.
Read More: Health Official Prepare For West Nile Season
First identified in the West Nile region of Uganda in 1937, the mosquito-borne zoonotic arbovirus is found in temperate and tropical areas of the world, causing sporadic and fatal outbreaks in humans. Although long considered a minor infectious disease risk, West Nile virus made its breakout in Romania in 1996 with a high number of fatal infections, before spreading globally.
The disease was first identified in the Western Hemisphere in New York City in 1999, spreading throughout the continental United States, Canada, the Caribbean Islands, and Latin America. Following the Gulf War, the spread of the disease prompted some conspiracy theories alleging the source as the late dictator of Iraq, Saddam Hussein, as dead birds appeared in Maryland and throughout the mid-Atlantic states.
Published by Medicaldaily.com