Why Men Prefer To Date Vegetarian Women: Benefits Of Dating A 'Veggie'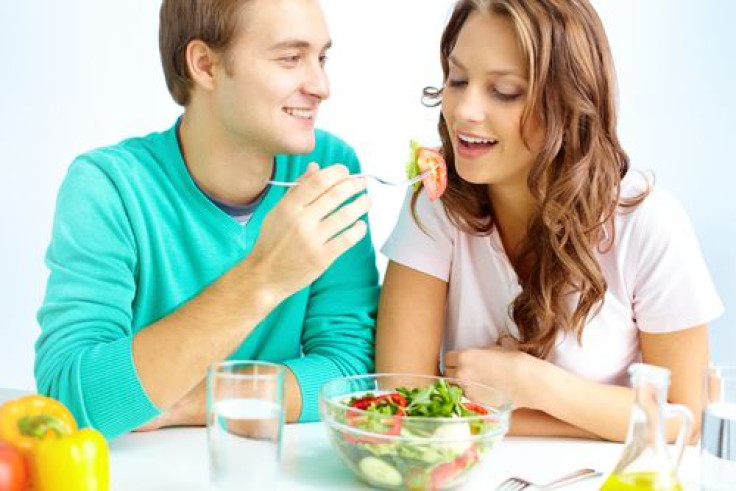 At the start of a fresh romance, you may have heard the phrase "food and love go hand in hand." As online dating continues to blossom, how you eat may affect who you love or who loves you. Are You Interested (AYI), an online dating site with two million monthly active members, found men prefer vegetarian women 11 percent more than carnivores, sparking the question: Are there benefits to dating a "veggie"?
"Possibly, some people are ruling people out based on preconceived notions," Josh Fische, researcher and AYI's vice president of Product and Data Insights told the NY Daily News. "Just because someone's a vegetarian, doesn't mean they can't go out and have fun." Fischer found healthy eating habits tended to sway more guys based on the analysis of profile views and messages between users on the site.
While being a vegetarian and including fun facts like "exercises," "toned," and "athletic" generated more clicks for women, vegetarian men did not receive the same amount of attention. To the researchers' surprise, women on AYI were 13 percent more likely to each out to meat-eating men than vegetarians. "Vegetarians are healthy — we thought they would have a higher likelihood of being contacted," Fischer said.
Although vegetarian men have been given the boot by AYI women, single men looking for their veggie significant other should travel to the sunny state of California or New York if the west coast doesn't appease them. The AYI report revealed the nation's healthiest set of singles live in California, while singles with the worst eating habits live in North Dakota. However, North Dakota shouldn't be given a bad reputation; it's ranked as the nation's happiest state in the Gallup-Healthways' well-being state poll.
In addition to what state has the healthiest eating habits, the researchers also delved into what religion contains the most vegetarian singles. AYI men and women who Christians, are more likely to be meat-eaters, while Hindus are eight times more likely to be vegetarian or vegan than any other religion. The release of this report may provide valuable information for the online dating community as people take more things into account when having so much information at their disposal.
It is important to remember this data was taken from one dating site that has a unique base demographic. Remember meat-eaters, you aren't doomed to a life of tofu and salad if you date a vegetarian. Here are some scientific reasons why men may prefer to date vegetarians, and some reasons that may motivate ladies to become meat-free.
1. Vegetarians Have Better Sex Lives
A vegetarian diet has been associated with increased sexual activity. Those who consume tofu and other plant-based foods may have a better sex life than their counterparts due to the fact that certain plant products can influence hormone levels, and therefore, lead to heightened sexuality, the Daily Mail reported. Phytoestrogens, the so-called sex hormones found in plants, is said to be culpable for this effect.
2. Vegetarians Tend To Be Happier Than Meat-Eaters
Dating a vegetarian could mean more happiness and less stress for the relationship. Diets that include meat and fish are higher in arachidonic acid (AA), which are known to cause mood-disturbing brain changes. A study in Nutrition Journal found being on a vegetarian diet for two weeks resulted in "negligible amounts" of eicosapentaenoic acid (EPA) and docosahexaenoic acid (DHA) in the body. The simple consumption of plant-based produce can lead to feeling calm and happy.
3. Vegetarians Are Healthier
A meat-free diet is healthier than an omnivore diet because of the mere fact vegetarians consume less animal fat and cholesterol and instead consume more fiber and antioxidants by eating more fruits and veggies. A study in the American Journal of Clinical Nutrition found self-proclaimed vegetarians had a 32 percent reduced risk of both fatal and non-fatal heart disease, along with lower blood pressure, cholesterol, and had a lower body mass index compared to their meat-eater counterparts. The vegetarians consumed more cheese, fruits, vegetables, and whole grains, and less milk.
Published by Medicaldaily.com