Wisconsin Company Announces Recall Of Four Frozen Pizza Products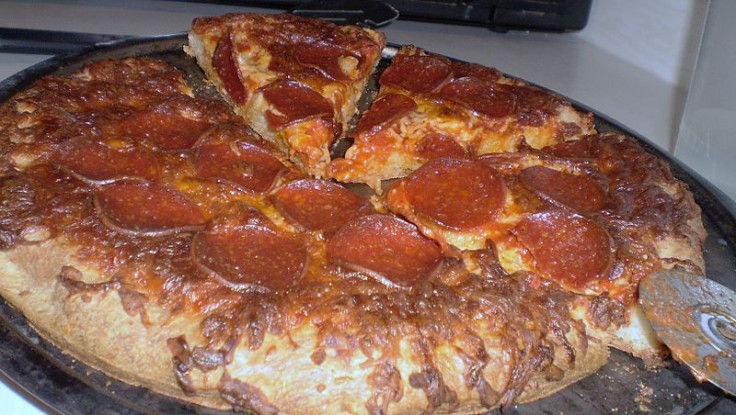 You might want to check the frozen pizza in your fridge for, well, extraneous materials. The U.S. Department of Agriculture's Food Safety and Inspection Service (FSIS) and Food and Drug Administration (FDA) has recalled Nestle Pizza Company's products.
Consumer complaints to Nestle USA prompted the recall when consumers said they found pieces of plastic in the California Pizza white pizza variety. Although no other complaints have been made about the other three frozen pizzas, the company has decided to pull them off the market.
The plastic that many frozen pizza aficionados found was traced to a shipment of spinach that is widely used in the Wisconsin company's other pizza products, reported the Associated Press (AP).
The dangers of frozen food do not stop at recalls. Due to the demands of the average working American, frozen entrees provide the perfect quick fix to satisfy a craving in little to no time. Coughs, colds, and flu infections are often brought on by these processed foods that can lead to serious chronic degenerative diseases.
When processed foods are exposed to high temperatures that range above 105 degrees from the microwave, it alters enzymes that help the human body digest food. According to osteopathic physician Dr. Mercola, the damaged enzyme contact is one of the major factors of chronic illness. The impairment of the pancreas is brought on by the consumption of frozen foods. The destroyed enzymes begin to force the human body to make its own enzymes to process the food.
The recall of frozen foods every year continues to grow, especially with frozen pizza. Earlier this year, Rich Products Corporation announced the recall of roughly 10 million pounds of frozen pizza and their other frozen food products because of the contamination of E. coli 0121, reported the Centers for Disease Control and Prevention (CDC). The bacteria causes diarrhea and abdominal cramps and in most cases goes away without treatment in five to 10 days, if not severe. In rare cases, consumers develop hemolytic uremic syndrome (HUS), which can lead to kidney failure.
California Pizza Kitchen and DiGiorno may be off shelves but the health-threatening frozen foods will occupy their space.
The recalled pizzas were produced between February 26 and March 9 of this year and distributed to stores across the country.
The recall includes:
California Pizza Kitchen Limited Edition Grilled Chicken with Cabernet Sauce, UPC 71921 00781; production code is 3059525952. Establishment number P-5754.
DiGiorno Crispy Flatbread Pizza Tuscan Style Chicken, UPC 71921 02663; production codes are 3057525922 and 3058525921. Establishment number P-5754.
DiGiorno pizzeria! Bianca/White Pizza, UPC 71921 91484; production code is 3068525951.
California Pizza Kitchen (CPK) Crispy Thin Crust White, UPC 71921 98745; production codes are 3062525951, 3062525952 and 3063525951.
Published by Medicaldaily.com