Woman Loses Finger While Protecting Dog From Attack: How Far Would You Go To Protect Your Pet?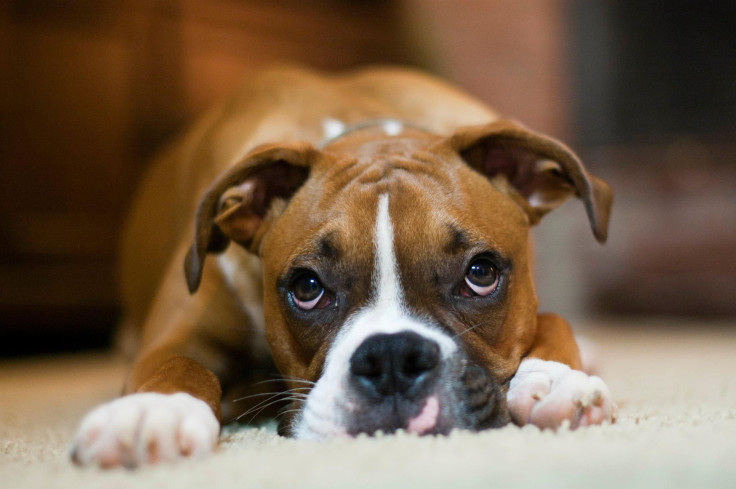 In Sterling Heights, Mich., a woman lost her finger and the tips of several others while trying to protect her dog from an attack on Tuesday. The 54-year-old was walking her cairn terrier, a dog that typically weighs less than 20 lbs., past the home of a two-year-old boxer mix. When someone opened the door to enter the house, the mutt escaped and immediately ran after the small terrier.
The larger dog mauled the little dog around 8:40 p.m., and police say that when the woman tried to stop the dog from getting to her small pet, the large dog went after her instead. A boxer's body is compact and powerful, with a short muzzle and typically thin ears tapered to a point. With its muscular legs, a boxer is typically 23 to 25 inches tall and weighs in at about 65 to 70 lbs. When the dog attacked, the middle-aged woman wasn't able to protect her dog or herself.
"The victim tried to pull the boxer away from her dog and then the boxer turned on her and started biting her finger," Lt. Luke Riley told the Oakland Press. "The boxer's owner responded and pulled her dog off the lady and the other dog."
Although the woman is expected to recover, one of her fingers is completely severed and the tips of several other fingers have been bitten off. Her own dog sustains several lacerations and is currently undergoing treatment, but is expected to recover.
As for the boxer mix, the dog has been turned over to the local animal shelter where it will be euthanized because it did not have up-to-date vaccines, including a rabies vaccination, putting both the woman and her little dog at further risk. The dog's owner, a 45-year-old woman, is charged by animal control officers for harboring a dangerous animal, failure to restrain a dangerous animal, and being in possession of an unlicensed dog. The woman agreed to pay a $140 fee to have the dog's cadaver tested for rabies.
Published by Medicaldaily.com