Women In India, Bangladesh, And West Africa Are Chronically Undernourished: The Prevalence Of Severe Malnutrition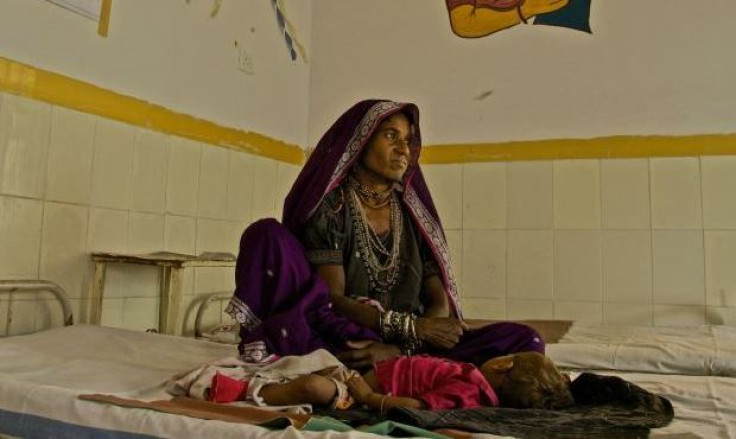 A body mass index (BMI) lower than 16 is regarded as the most severe category of adult malnutrition, cites a new JAMA study. It's also most prevalent among women living in low- and middle-income countries.
Researchers from St. Michael's Hospital and Harvard T.H. Chan School of Public Health found more than 18 million women living in these countries are chronically undernourished, and that it is "associated with substantial morbidity, increased mortality, and poor maternal-fetal outcomes," including low birth weight. Prior to their broad global study, little was known about the prevalence and distribution of BMI lower than 16, and to their knowledge, they're among the first to explore the severity of the conditions and its adverse health impacts. The study looked at both the prevalence of lower BMI and the chance in prevalence of BMI over time.
Researchers conducted a cross-sectional analysis of nationally representative surveys from 1993 through 2012 from the Demographic and Health Surveys Programs. Over 700,000 women aged 20 to 49 from 60 different countries were included in the sample, as well as a subset of 40 countries with repeated surveys. Researchers measured for women's wealth, age, education, and place of residence — urban versus rural.
The 60 countries included in the study represent an estimated three billion individuals.
Among surveyed countries, the prevalence of BMI lower than 16 was 1.8 percent, with the highest prevalence in India, followed by Bangladesh, Madagascar, Timor-Leste, Senegal, and Sierra Leone. The six countries with prevalence less than 1 percent were Albania, Bolivia, Egypt, Peru, Swaziland, and Turkey. Women with little education who also lived in rural areas were much more likely to be undernourished when compared to wealthier, higher-educated women.
"What surprised us was the number of women suffering from severe undernutrition despite the fact that the prevalence of being overweight or obese has risen in most of the countries we looked at," said lead author Fahad Razak, scientist at the Li Ka Shing Knowledge Institute of St. Michael's Hospital in Toronto, in a press release. "What was also striking was that there was no decline in the prevalence of severe adult undernutrition in the past two decades in the majority of countries."
The study's major findings are one, BMI lower than 16 remains a "critically important public health entity"; it was first implemented by the United Nations in 1998. This is followed by the fact that prevalence of BMI lower than 16 remains high globally, "and if prevalence estimates are generalizable, more than 18 million women are affected in the countries studied."
Researchers concluded: "The finding of a large and, in some countries, persistent burden of individuals with BMI lower than 16 supports the need for further study of why mortality rates are increased and supports the value of intervention studies to examine whether mortality can be reduced."
Source: Razak F, et al. Prevalence of Body Mass Index Lower Than 16 Among Women in Low- and Middle-Income Countries. JAMA. 2015.
Published by Medicaldaily.com