Working Out in the Middle of the Working Day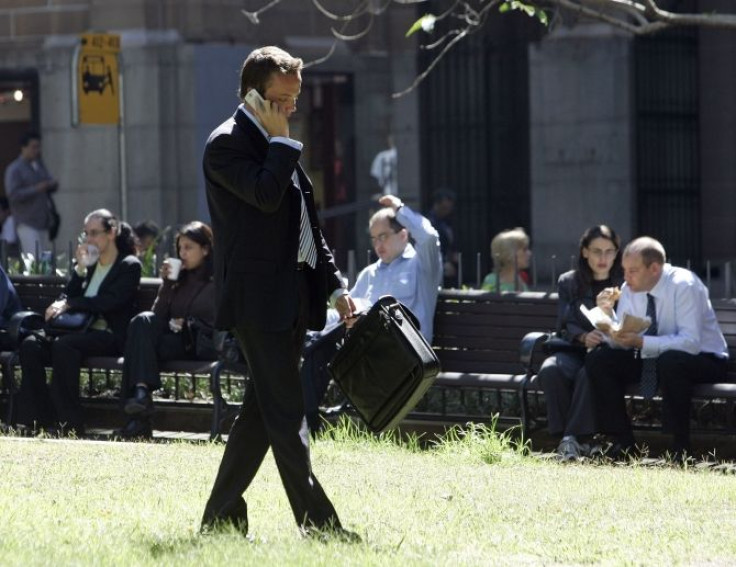 With the three-martini lunch gone the way of the typewriter, office workers are free to discover the healthier perks of midday movement.
An active lunchtime can range from the sweaty to the serene, experts say, from a full-out cardio blast to a walk in the park.
"People who want to get in a good workout over lunch hour can do simple things like go for a walk," said Dr. Cedric Bryant, chief science officer of the American Council on Exercise.
"Think about it. Thirty minutes on a regular basis would meet the minimum threshold for physical activity," he added.
U.S. government guidelines state that adults 18 and older need 30 minutes of physical activity on five or more days a week to be healthy.
For an intense workout on a rainy day, Bryant suggests finding a quiet stairwell and performing a series of lunges, dips, push-ups, alternating quick and slow climbs, or taking the stairs two at a time.
"You can do a mix of cardio, interval and resistance training using the stairs," he explained.
How intense should your midday workout be? For many, perspiration is the dividing line.
"Sweating is a huge obstacle for most people," said Bryant, "but just sitting at the computer compromises posture and has health consequences."
As author of "Walking Deck: 50 Ways to Walk Yourself Healthy," Florida-based fitness expert Shirley Archer has helped workers to organize lunchtime walking groups.
"If you haven't had a chance to pace out the walks in advance, simply walk 12-15 minutes and then turn around and re-trace your steps," Archer said. "You will be back in time."
Elasticized exercise bands or tubing can add toning moves to a walk, she said, adding that intervals, circuits and hills would also add variety.
"Keep a water bottle and pair of walking shoes in your desk at all times," she recommends. "Do not take these home."
If cardio needs are met outside the office, lunchtime might be better spent in strength and toning exercises, she said.
Archer also suggested trying to cultivate mindfulness and deep breathing.
"More meditative-style movements can be a refreshing mid-day break from office stress," Archer said.
For people with a gym membership, the 30-minute treadmill run is a popular option, according to California-based trainer Amy Dixon, who added that many gyms tailor short fitness classes to the lunch crowd.
"You have to prepare for a quick and dirty workout in the middle of the day." said Dixon, creator of the "Give Me 10" and "Breathless Body" fitness DVDs.
"For women, you want waterproof mascara, cool towels, a change of clothes, and something to keep your hair off of your face."
For people who prefer not to sweat Dixon said they should consider flexibility exercises.
"Use that time to do stretches and rotations," she said, "or do core work that's not as intense as your cardio workout."
Dr. Nicolaas Pronk, an expert on workplace wellness with the American College of Sports Medicine (ACSM), said often workers' lunch time is more limited than 30 minutes.
He recommends workers first focus on reducing prolonged periods of sitting with 10-minute breaks throughout the day.
"Sometimes these are called instant recess or booster breaks," said Pronk, vice president of Health Partners Research Foundation in Bloomington, Minnesota.
Changes in office design, such as sit-stand desks, could help workers without altering the work flow, as well as using stairs.
"In the workplace setting, it may be most important to ensure that people do not sit for prolonged periods of time first, the to stimulate overall increases in physical activity," Pronk said.
Bryant said another side benefit of the lunchtime workout is the brown bag.
"Odds are you'll probably be eating better because you won't be going out to lunch," he said.
@ 2012 Thomson Reuters. All rights reserved.