World's Oldest Wing Walker: Tom Lackey, 93, Crosses The Irish Sea Strapped To The Wing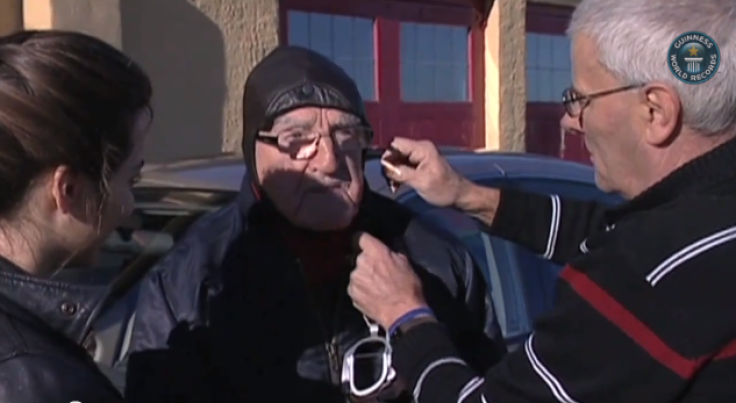 After last week's powerlifting record, the 70+ division is set to stun children and grandchildren yet again. This time, it's Tom Lackley – a 93-year-old retiree and former builder from the West Midlands, who made headlines on Thursday after he became the world's oldest wing walker. Strapped to the top of a vintage Boeing Stearman biplane, the veteran soared across the Irish Sea, from Scotland's Castle Kennedy to City of Derry airport. He described the 81-minute flight as "refreshing."
"It's nice looking around and seeing the other aircraft around me and seeing all the fields and the sheep scattering when they saw me coming," said Lackey, speaking to BBC. A late-blooming daredevil, Lackey made his first wing walk when he was in his 80s, as part of a charity venture following the death of his wife. To this day, he always carries her picture with him.
"She comes with me every time I go up in the air," he said. "I mainly think of her and what she would think of me. I do think she would have been very proud. I have been doing all these stunts to keep her memory alive. She was a wonderful person."
Since his first walk, Lackey has performed the feat many times, and raised over £1 million for charity. His extensive record notwithstanding, the 93-year-old said the record-breaking walk was extremely taxing.
""I have done quite a number of wing walks. I do like doing it. I like the adrenaline and I see it as a challenge but this was definitely the toughest yet," he told reporters. "I don't think I'd want to do it again."
Back on the ground, his daughter and granddaughter came to greet him.
"He's absolutely mad, but I've grown up with it my whole life so I'm just used to having a mad granddad now," said Verity Joynson, Mr Lackey's granddaughter.
"I am glad to be down," said Lackey, speaking to Sky News. "It was rather refreshing - very, very cold and very, very noisy."
Published by Medicaldaily.com