Xena, Warrior Puppy: Unlikely Bond Between Tough Rescue Pup and 8-Year-Old Boy With Autism [VIDEO]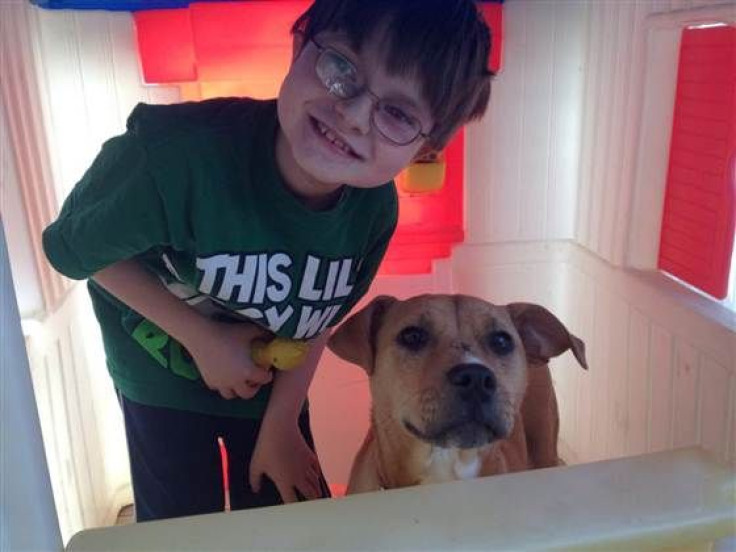 Jonny Hickey rarely spoke.
He knows how to read, and has the ability to speak, but autism had caused him to spend the first eight years of life deeply uncomfortable in social settings. Unfamiliar situations often led to fear, tantrums, and painful awkwardness.
He would much rather play by himself, with marbles, in silence.
Then he met Xena, Warrior Puppy.
Neglected, abused, and starved, a few months ago Xena was brought to the DeKalb County Animal Services' shelter in Georgia after she collapsed in someone's yard. Xena was skin and bones, and when staff members saw her they recoiled in shock.
[See photos at the end of the article.]
"I've been doing rescue probably for about 12 years, and I had never seen a dog that young in that sort of condition," said Chrissy Kaczynski, Animal Services professional and founding member of the rescue group Friends of DeKalb Animals. "I brought her home with me and I didn't think she'd make it through the night."
The puppy weighed four pounds, and looked like a skeleton. Rescue workers guessed she was four months old, and attributed her ghastly condition to being confined and starved in a cage.
"Usually a dog on the street can find at least some food, but in this case she must have been locked up somewhere with no food or water at all," said Kaczynski.
The puppy was on the brink of death, but with fluid and nutritional supplements, she began to perk up. So miraculous was the tough puppy's recovery, that Kaczynski named her Xena, Warrior Puppy.
A Facebook page was created to celebrate the puppy's recovery.
Enter Linda Hickey, Jonny's mom. Linda discovered Xena's story on Facebook, and found the adorable pup irresistible.
"Yes, I fell in love with a dog on the Internet!" Linda said.
But unlike most of the internet, she did something about it. Linda brought her family, based in Johns Creek, Georgia, to a fund-raising event produced by Friends of DeKalb Animals, where the family met Xena.
"We were literally there for four minutes, and Xena ran right up to Jonny and my husband," Linda said. "I already loved this dog, and after I met her, I really loved this dog."
The Hickey family adopted the puppy soon after. On February 11, their first trial day together, Linda loaded the now vigorously healthy Xena into her mini van to meet Jonny after school.
Jonny took to Xena instantly.
"From that very first day, that dog was sitting in his lap in the car seat, giving him all these kisses," Linda said. "And that's where she's been ever since."
Linda noticed that a change had come over her son, Jonny. The social reserve characteristic of his autism had begun to fade. In the company of Xena, Jonny started speaking more.
"There is no social awkwardness for him with her," Linda added.
"He is non-stop chatter now!" Linda told TODAY.com. "He has so much to say about his math, about what he did in P.E. He is the happiest child that I've ever seen him be in eight years."
Jonny's story bears out the indications of a study performed earlier this year, which found that the presence of animals as compared with toys offers therapeutic benefits for children with autism, including increased eye contact, laughing, talking, and other positive social behaviors.
Another study in 2006 showed that children with autism spoke and interacted more after being allowed to pet dogs and rabbits, ride llamas, and play fetch with dogs during occupational therapy sessions.
Autism Service Dogs of America has put research implications like these into practice for more than 10 years, pairing children with specially trained, exceptionally calming dogs.
Xena's calming effect certainly help Jonny get through the day. Recently, Linda took her son to get a haircut. At first, Jonny could not seem to overcome his social anxiety.
"I'd wave her paw so he could see her," Linda said, who stayed with Xena outside the salon. "With Xena there, he got the haircut."
Jonny frequently naps in a puppy pile with Xena and the family's two other dogs.
"I'm not a doctor, but I do know Jonny has a zillion sensory issues and I wonder if that pressure is calming for him," Linda said. "Maybe it's like a beanbag chair. A beanbag chair is great for him because it's like a giant hug."
Xena now has over 19,000 fans on Facebook.
"At first I didn't tell anyone on Facebook that Jonny had autism, and they fell in love with him without judgment," Linda said. "And then when I told them all that he had autism, they still loved him. It just brought tears to my eyes, actually."
Linda has since posted a YouTube video to raise awareness about autism.
"My name is Jonny and this is my puppy, Xena," Jonny says in the video. "Well, my Xena was hurt really bad by some not-so-nice people. And I have autism. So I think we make a pretty perfect team to spread the words to be nice to animals, and nice to kids like me."
You can watch the video below.
Published by Medicaldaily.com