Young Girl Crochets and Donates Hats to Kids With Cancer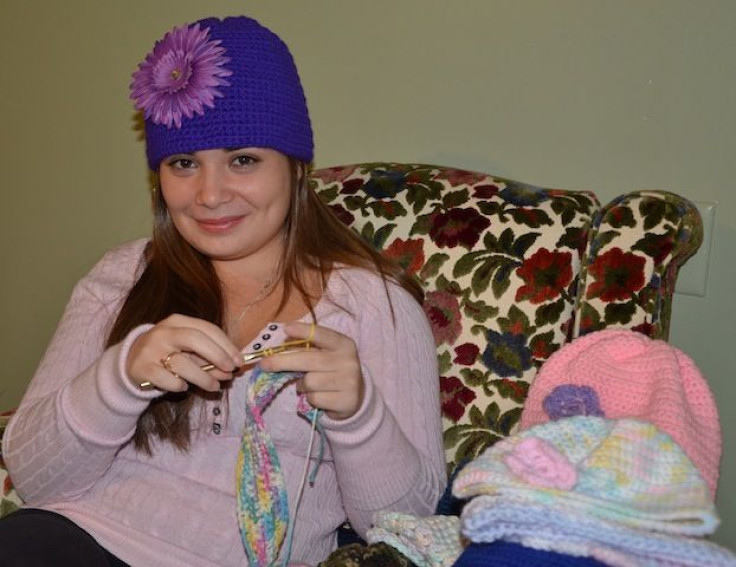 A high school student hoping to give young cancer patients joy and warmth over the winter has crocheted 110 hats in less than two months and donated them for the Thanksgiving holiday.
"I always wanted to give donations to kids in need but I could never afford it, so I thought to myself, what better gift to give than a gift made by my own hands," Nicole Abbate, 18, of Brooklyn, New York told Medical Daily.
Friends, family, and neighbors gave Abbate donations of wool to help her reach her mark.
Ashley Engelman, a spokeswoman for the American Cancer Society lauded Abbate's efforts noting her youth and added that there are "many ways to help fight cancer without hurting your bank account."
"It's wonderful to hear about any volunteer, especially one so young, using their talents to help cancer patients and their families," said Engelman.
Engelman says volunteer opportunities at the Society include participation in a long term survey-and-vital signs study called Cancer Prevention Study 3, or helping out at lodging facilities for traveling cancer therapy patients known as Hope Lodges.
Abbate – who has been crocheting for 8 years - originally planned to make 100 hats by Christmas but surpassed that ahead of time.
"I figured I would donate them on Thanksgiving because it's a day of thanks," she said.
She is splitting the hats donation evenly among two hospitals, giving 55 each to Cornell's Pediatric Oncology Department of New York Presbyterian and to Memorial Sloan-Kettering Pediatric Cancer Center.
Abbate says her donations are in honor of Dominique Raiola, a 10-year-old girl who is a daughter of a friend of the her family that had her kidney removed at Cornell back in April.
Abbate was amazed and inspired to donate because the young patient, even after undergoing surgery, continued to smile after all she had been through.
Patients at Cornell's pediatrics department suffer from a variety of illnesses, according to a staff member. In house kids at on hospital include hematology, oncology, and bone marrow transplant patients, said Rechelle Porter, Child Life Specialist at Cornell.
Porter is enthusiastic about Abbate's Thanksgiving gifts, noting they will fill a need.
"I think it's wonderful that she's giving hats to these kids. It will brighten their day and keep them warm over the winter," she said. "Many of our patients lose their hair from medications and chemotherapy so they will definitely get good use out of them. She should be very proud of herself."
Abbate says that she is and plans to continue making hats for kids suffering with conditions such as cancer and other illnesses. She hopes to one day start a cancer foundation for children.
Next year, she hopes to donate 500 hats.
"It sounds like she's giving patients much more than a hat, she's giving them hope and happiness. This is invaluable."
Watch an interview with Nicole Abbate below:
Published by Medicaldaily.com