4 EMS Responders In Chokehold Death Of Eric Garner Put On Limited Duty While Investigation Continues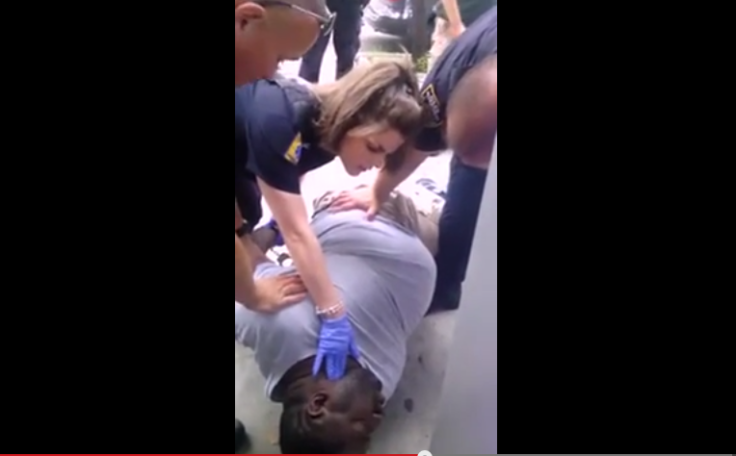 Following questionable procedural tactics by four New York City police officers that led to the death of Eric Garner, four emergency medical service (EMS) responders have been put on limited duty due to their role, or lack thereof, in the chokehold death. Although a video posted online clearly shows Garner, who reportedly suffered from asthma and diabetes, being slammed to the pavement on a Staten Island sidewalk while shouting "I can't breathe! I can't breathe!" the medical examiner's office is still trying to determine a cause of death.
"On behalf of all New Yorkers, I extend my deepest condolences to the family of Mr. Garner, who died [July 17] while being placed in police custody," Mayor Bill de Blasio said in a statement. "We have a responsibility to keep every New Yorker safe, and that includes when individuals are in custody of the NYPD. That is a responsibility that Police Commissioner Bratton and I take very seriously. We are harnessing all resources available to the City to ensure a full and thorough investigation of the circumstances of this tragic incident. The NYPD's Internal Affairs Bureau is working closely with the Office of the Richmond County District Attorney, which is leading this investigation."
The video obtained by the NY Daily News shows Garner refusing to be handcuffed for allegedly selling cigarettes illegally before undercover officers forcibly took the 6-foot-3, 350-pound man to the ground. Officer Daniel Pantaleo, an eight-year veteran of the NYPD who applied the fatal chokehold, has been stripped of his gun and badge as well as reassigned along with another unidentified officer involved with the incident, The Associated Press reported. Pantaleo has also been named in three prior suits in which defendants claim he made unlawful and racially motivated arrests.
According to New York Post sources, two medics and two EMTs responding to Garner's condition did not follow proper medical service procedures and did little to help save the man's life. Basic EMS training was neglected, such as checking Garner's airway, breathing, and circulation, or placing him on a stretcher. A female EMS worker seen in the video did not have necessary equipment such as an oxygen bag or a defibrillator. All four emergency responders who are currently employed by Richmond University Hospital on Staten Island have been barred by FDNY from responding to any 911 calls.
Published by Medicaldaily.com