5 Easy Tips To Turn Your Quesadillas Into A Nutritious Meal
Only a few things can match the simple pleasure of taking a bite of a cheese-packed quesadilla. Filled with delicious and gooey queso, with a good choice of toppings, make it the best grab-and-go meal option on a busy day.
And the best part about quesadillas is that it is easily customizable as per one's preference. The fact that one doesn't have to trade flavor for convenience makes it all the more appealing. Whether you are in the mood to have chorizo or creamy guacamole, it barely needs any effort to prepare.
If you are looking for ways to turn your quesadilla into a nutritional powerhouse, here are some helpful tips:
1. Choose corn tortillas
Ditch the store-bought tortillas for the homemade variants. It's better if you choose corn tortillas as they are rich in fiber, vitamins, minerals and healthy carbohydrates. Corn tortillas are considered a whole-grain. According to Mayo Clinic, adding whole-grain foods to your diet can benefit your health in multiple ways, such as aiding in the regulation of blood pressure, cholesterol levels and weight management.
2. Mind the cheese
Quesadillas are named after the Spanish word "queso," which means cheese, indicating that cheese is a key component of the dish. However, it's essential to be mindful of the quantity of cheese used to avoid excessive calorie intake. Choosing semi-mature mozzarella or mild cheddar as the primary cheese can be a smart option as they contain lower levels of sodium and calories.
3. Throw in lots of veggies
To elevate the health game, incorporating veggies like bell peppers, onions, tomatoes and spinach is important. This way you will increase the fiber content and add vital vitamins, minerals, antioxidants and phytonutrients to your meal that can enhance your overall health.
4. Add protein
To enhance the nutritional value even more, consider adding some lean animal protein such as chicken or plant-based protein like black beans. According to the U.S. Department of Agriculture, a mere 1/3-cup serving of black beans packs in five grams of protein and five grams of fiber, making them an excellent source of both nutrients. This is proof enough that including black beans in your quesadillas can effectively increase the protein levels of the popular Mexican wrap.
5. Swap the sour cream topping for something healthier
Greek yogurt is generally a healthier choice that will not compromise on the taste. It has a thick and creamy texture that is not only tasty but also a great alternative to sour cream, which has a relatively higher calorie count. According to the USDA, greek yogurt contains approximately 1.5 grams of protein per tablespoon, whilst light sour cream contains less than 0.5 grams of protein per tablespoon.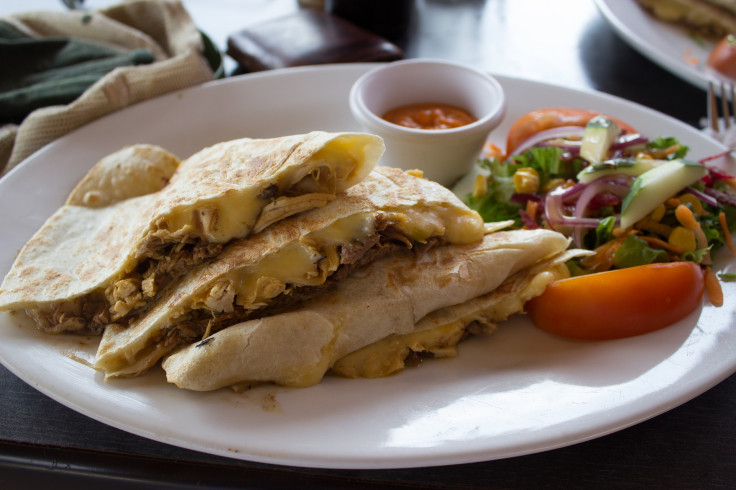 Published by Medicaldaily.com