6 Prisoners Infected With Legionnaires' Disease In San Quentin, California's Oldest Prison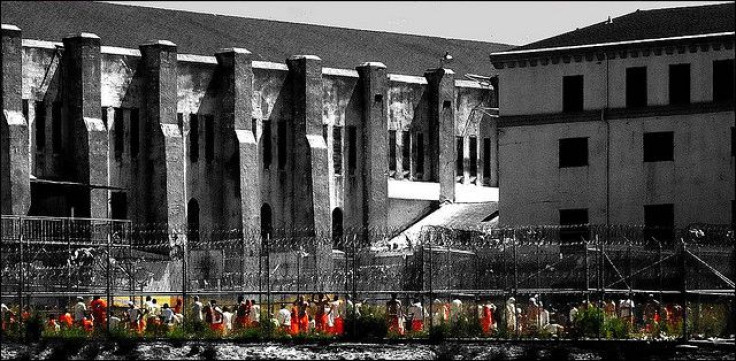 There's no getting around it: When hundreds of humans are packed into small spaces, a health scare is inevitable. That's exactly what happened at San Quentin State Prison, the 163-year-old correctional facility located just north of San Francisco.
Over the weekend, at least six inmates were believed to have contracted Legionnaires' disease, with dozens more under observation, the California's Department of Corrections and Rehabilitation (CDCR) said. Five of the inmates are currently being treated for the disease outside of the prison. As a result, the facility has halted all visitors and incoming prisoners, stopped handing out hot meals, and has put as many as 51 inmates with respiratory illnesses under observation.
Additionally, water use has been limited, since last week after an inmate was hospitalized with a confirmed case of Legionnaires' disease. Out of the prison's 1,800 employees, none have yet to show any symptoms, the CDCR stated. They also say that there is no current danger to the public.
They've brought in portable toilets, bottled water, and large water tanks to help keep the prisoners and employees clean and hydrated. Prison officials have also begun serving their approximately 3,700 prisoners boxed meals. And recently they allowed the prisoners to use plumbed toilets again, but will continue to use the bottled water and water from the on-site tank until it is deemed safe to return to normal water use.
Legionnaires' disease has been in the public eye for a few months now. Earlier this month, an outbreak in New York City killed 12 people and another 128 were sickened. The source of the outbreak was pinpointed to the cooling system of the city's historic Opera House Hotel. As of Aug. 22, the outbreak has been contained.
How does one contract this disease? It's caused by a type of bacterium called Legionella, which got its name in 1976 from the people who were sickened after attending a Philadelphia convention of the American Legion. The disease is a type of lung infection, with symptoms ranging from a cough, to headaches and high fever. Symptoms generally appear two to 10 days after exposure.
Most cases of Legionnaires' disease can be treated with antibiotics, but there is a risk of lung failure and a 30 percent mortality rate. Keeping the bacterium out of water is the key to stop it from spreading, as even a mist or small droplets of water contaminated with the disease can lead to infection.
Published by Medicaldaily.com