Actress Pamela Anderson Cures Hepatitis C With Antiviral Medication: Why Patients Need Equal Access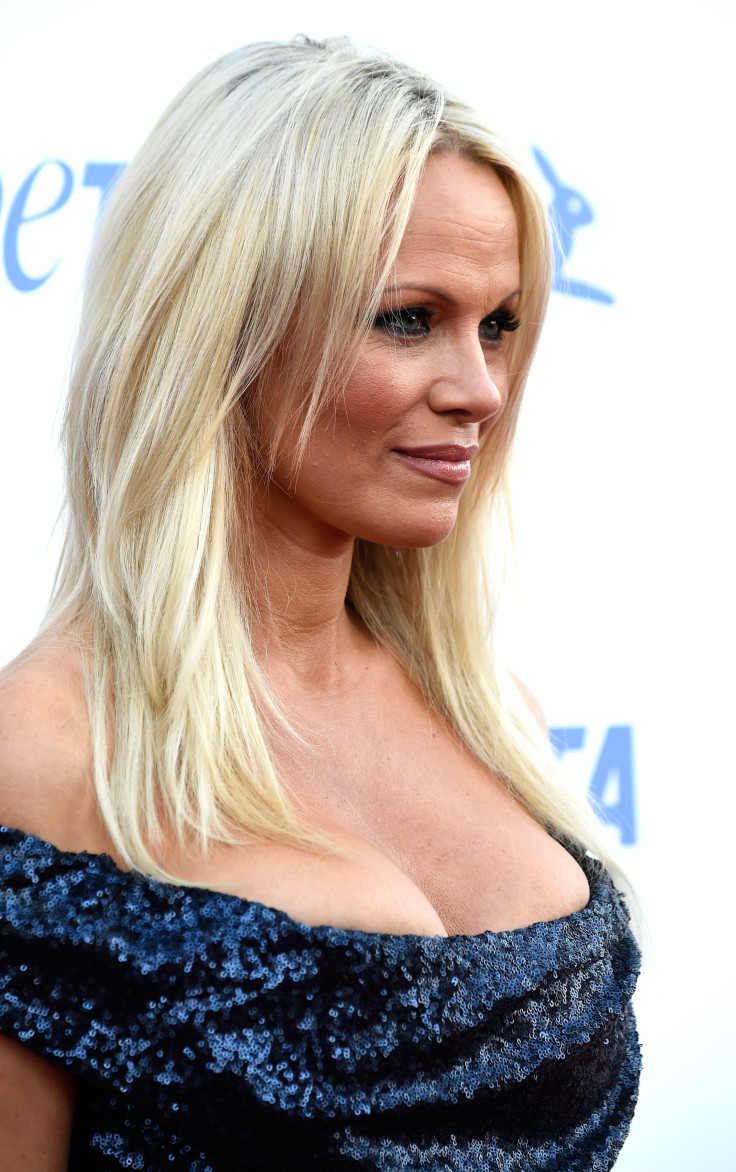 In 2002, after reportedly sharing a tattoo needle with ex-husband Tommy Lee, Pamela Anderson contracted hepatitis C — a liver disease caused by the hep C virus. The former Baywatch star had been relatively quiet about her diagnosis until opening up to People in August of this year. Anderson said she'd been prescribed a new FDA-approved drug regimen that could rid her of the virus in as little as a month. And yesterday on Instagram she announced she finally was.
Anderson posted a revealing photo of herself in Cannes, writing that she just found out she had been cured. Sixteen years ago Anderson believed hep C was a "death sentence," she told People. She didn't suffer from any liver damage or otherwise side-effects — those with chronic hep C often develop liver cirrhosis or liver cancer — but "it really was a dark cloud that lingered over me." Now, she's hep-free and "wants to help."
The World Health Organization reports "the most common modes of [hepatitis] infection are through unsafe injection practices, inadequate sterilization of medical equipment, and the transfusion of unscreened blood and blood products." There are also come groups of people at increased risk for hep C: people who use drugs, people who have undergone invasive healthcare procedures with inadequate safety practices, and people, like Anderson, who have had tattoos and piercings. Healthcare workers are at "higher than average risk of infection," too, according to one research review.
Knowing this, the WHO and the World Hepatitis Alliance (WHA) remind people "it's up to you" to stay healthy. They remind people not to share straws, needles, and syringes; to question if a medicine can be administered without an injection; and to take action and get vaccinated for hep B. The risk of becoming chronically infected with hep B is reportedly as high as 90 percent among infants who aren't vaccinated.
But perhaps the biggest push from the WHO and WHA is for the development of new curative treatments; there's currently no vaccine for hep C. Back in May, the WHO added these treatments to its essential medicines list, though the United Nations agency said "prices needed to fall to make them accessible to patients in poorer countries."
Worldwide 400 million people are reportedly living with hep B or C, with the most affected regions being Africa and Central and East Asia. The cure rate for the virus is dependent upon several things — chief among them access to antiviral drugs.
Formally these medicines are known as direct antiviral agents, and the WHO finds they are "much more effective, safer, and better-tolerated than the older therapies." Unfortunately, though the drugs aren't expensive to make, "the initial prices are very high and likely to make access to these drugs difficult even in high-income countries." A single pill of the antiviral medication Sovaldi reportedly costs $1,000 in the United States. Not only that, but Sovaldi is often combined with other treatments, bringing the total cost to an estimated $150,000 per patient.
"Sovaldi is the canary in the coal-mine, alerting all of us that disaster is coming unless something is done to prevent it," John Rother, president and CEO of the National Coalition on Health Caret, said in a previous statement. "Unfortunately, the problem is far bigger than one drug — we are talking about a tsunami of expensive medicines that could literally bankrupt the health care system."
The WHO and WHA, and now probably Pamela Anderson, will continue to raise awareness, promote partnerships, and mobilize resources so every patient has access to life-saving information and medication. This endeavor may get a significant boost in 2016, as several candidates have already proposed plans that would help drive down drug costs.
Published by Medicaldaily.com