Acupuncture Effective For Chronic Pain, Depression: Alternative Therapy Boosts Standard Medical Care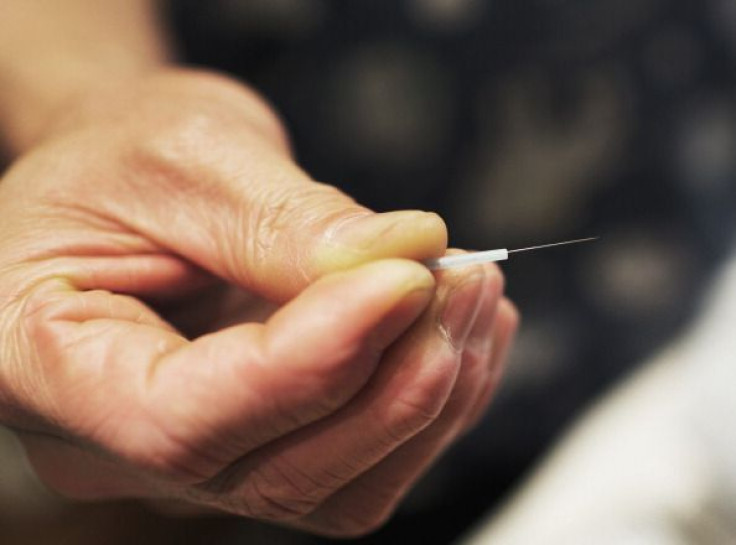 A new report from an international team of researchers discovered that acupuncture may actually boost the effectiveness of standard medical care for treating chronic pain and depression. The research challenges previous attitudes which held that the practice's results were simply due to a placebo effect.
Read: The Science Of Acupuncture: Treatment Activates Opioids, Lowers Hypertension
The research team looked at the results of 29 high-quality clinical trials where participants were all treated with acupuncture in addition to standard medical care. According to a press release from the University of York, the trials looked at approximately 18,000 patients all diagnosed with chronic pain of the neck, lower back, head, and knee.
Chronic pain is currently the most common cause of long-term disability, according to the National Institute of Health.
In a second study, researchers examined 755 patients with depression in the North of England. Results showed reduced symptoms of the brain disorder, which, after treatment, were sustained for up to 12 months.
Globally, an estimated 350 million people of all ages suffer from depression, the World Health Organization reported.
Read: Acupuncture Needling Doesn't Ease Menopausal Hot Flashes
"Our new data provides a significant step forward in treating chronic pain and managing depression, because patients and health professionals can now make decisions on acupuncture with more confidence. Not only is it more cost effective, but it reduces pain levels and improves mood levels, which could reduce over reliance on drugs that can sometimes result in unwanted side effects," said researcher Hugh MacPherson, according to the release.
Source: MacPherson H, Vickers A, Bland M, Torgerson D, Corbett M, Spackman E, et al. Acupuncture for chronic pain and depression in primary care: a programme of research. National Institute for Health Research (NIHR) Journals Library. 2017.
See Also:
For Pain Relief Without Drugs, Try These 5 Treatments Including Yoga, Acupuncture, Massage
Acupuncture For Dementia: Alternative Therapy May Help Initial Symptoms
Published by Medicaldaily.com