Acupuncture Needling Doesn't Ease Menopausal Hot Flashes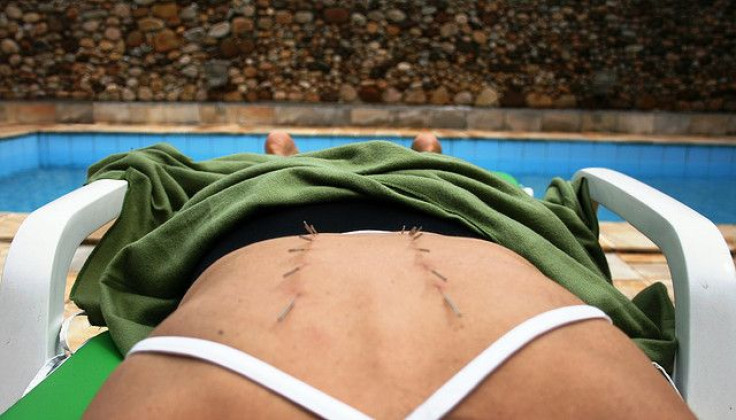 Reuters Health - Women with menopausal hot flashes who get acupuncture do experience some decrease in symptoms, but so do others who get a placebo version of acupuncture, with no needle insertion, according to a new study.
"The reason I began this research was because I had tried acupuncture for one or two patients who suffered from hot flushes and they reported remarkable results," said lead author Carolyn Ee of the University of Melbourne in Victoria, Australia, a family physician trained in acupuncture.
"I was curious as to whether or not they improved because of the acupuncture or for another reason," Ee told Reuters Health by email. "So I wasn't actually very surprised, as I was already entertaining the fact that acupuncture may not fully explain the clinical improvements."
Serotonin, a chemical that carries signals between nerves and may also play a role in maintaining body heat, is reduced after menopause. Hot flashes reportedly improve with use of certain antidepressants that change serotonin levels. Theoretically, acupuncture may improve serotonin levels, and may improve hot flushes the same way an antidepressant does, Ee said.
But the improvement could be due to something other than needling, like therapist interaction, she said.
"The answer seems to be that needling makes no difference, although the overall effect of seeing a therapist regularly and having blunt stimulation of the skin does improve hot flushes," Ee said.
The researchers included 327 women in Australia over age 40 in late menopause or postmenopause reporting at least seven moderate hot flashes daily, which qualifies in Chinese medicine as "kidney yin deficiency."
For eight weeks, half of the women received 10 treatments of standardized Chinese medicine needle acupuncture designed to treat kidney yin deficiency, while the other half got a sham version that did not actually involve needle insertion.
By the end of the study, 16 percent of women in the acupuncture group and 13 percent in the sham group had dropped out. Average hot flash scores were similar in both groups: both had reductions of about 40 percent since the beginning of the study, and the reduction was sustained for six months.
Other outcomes, like quality of life, anxiety and depression were also similar for both acupuncture and sham, the researchers reported in the Annals of Internal Medicine.
"Most trials including this most recent larger trial comparing acupuncture to sham acupuncture found no significant difference in hot flash frequency or severity between the two treatments," said Dr. JoAnn V. Pinkerton, executive director of the North American Menopause Society, who was not part of the new study.
"In the 2015 North American Menopause Society review of non hormonal therapies for hot flashes, we state that acupuncture cannot be recommended for the treatment of hot flashes," Pinkerton told Reuters Health by email.
Instead, the organization recommends either cognitive behavioral therapy or hypnosis when hormone therapy is not appropriate and non hormonal prescription therapies not desired, she said.
"There's very strong evidence that (acupuncture) is superior to sham acupuncture for chronic pain, including osteoarthritis, low back pain, neck and elbow pain," Ee said. "It's also effective for tension headaches, period pain and hay fever."
Acupuncture is relatively safe but can cause some bruising or bleeding, she said. It is technically an effective treatment for hot flashes, since both acupuncture and sham are better than doing nothing, she said.
"I would recommend that women consider all their options, be presented with the evidence, and decide accordingly," Ee said. "If they wish to continue having acupuncture, they need to be very clear that our findings show that the needling itself does not make any difference."
Lifestyle changes like layering clothing, keeping the ambient temperature to around 18 degrees Celsius or 64 degrees Fahrenheit, losing weight and avoiding triggers such as hot drinks and alcohol can help treat hot flashes, and hormone replacement therapy or antidepressants can be effective options for some women, she said.
"However, some women may choose to continue having acupuncture if they have found that nothing else works for them, or if they cannot tolerate hormone replacement therapy or other treatments," she said.
SOURCE: http://bit.ly/1niCVJ5 Annals of Internal Medicine, January 19, 2016.
Published by Medicaldaily.com