Art Therapy Program, 'Letting The Future In,' Significantly Helps Sexually Abused Children Move On From Trauma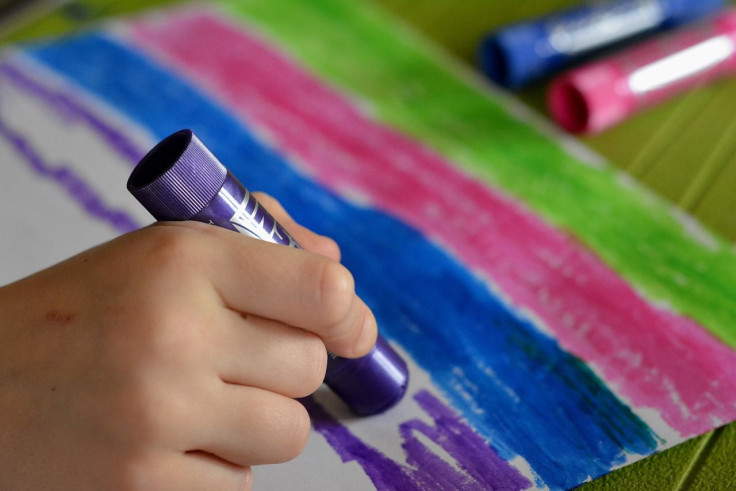 Artistic self-expression may be the best therapy for victims of childhood sexual abuse, finds a new study from the Universities of Bristol and Durham in the United Kingdom.
The study analyzes the impact of a program offered by the National Society for the Prevention of Cruelty to Children (NSPCC), called "Letting the Future In." Here, social workers focus on creative therapies — painting, drawing, storytelling and more — to get children to talk about their abuse. Study authors said an artistic approach to therapy can "enable the children to safely work through past experiences, and come to understand and move on from what has happened."
"Evidence-based therapeutic approaches are vital to help all children deal with the effects of sexual abuse," lead study author John Carpenter, professor of social work and applied social science at the University of Bristol, said in a statement. "This 'real world' evaluation — the largest randomized control trial in the world for a sexual abuse intervention — is a significant contribution to the evidence base, providing benchmarks for others to evaluate interventions. Crucially, it also demonstrates the importance of offering therapeutic support to children and young people who have been sexually abused, to help them deal with their experience."
For this analysis, participants were 242 children aged six to 16, most of whom were girls and had experienced sexual abuse. The initial assessment revealed over half of young people and children over the age of eight had "clinical level scores" on standardized tests designed to measure psychology and behavioral symptoms. Afterward, children were randomly divided among two groups; one was for immediate intervention and the other was for a six-month waiting list for the program to serve as a control. However, both groups were reassessed after six months and followed up 12 months after that.
The results showed at six months, older children and young people in the intervention group had significantly reduced trauma levels, from 73 to 46 percent. Even when study authors accounted for children who failed to engage or had dropped out early, there was still a nearly 20 percent reduction.
While younger children in the intervention and control groups did not show any change over the six months, they did show slight improvement when study authors followed up a year later. "This suggests that improvements may take longer to achieve or to be recognized by the carers who completed the measures," the authors wrote.
The therapeutic approaches slightly differed for children and teens — young children focused more on symbolic play, creative therapies, and awareness and management of feelings, while older children and teens focused more on feelings, identity and self-esteem, in addition to creative therapies, the authors said.
Nevertheless, the study authors found the program was "highly valued" by its participants, reporting it helped improve children's and teen's mood, confidence, and mental health. Children were less withdrawn, anxious, and angry, on top of sleeping better and understanding appropriate sexual behavior. With regard to the latter, children in the study were almost twice as likely to have been abused by someone in their family compared to someone outside it.
"Concern has focused on the protection of children and the identification of perpetrators, but we need greater understanding of how children affected by sexual abuse can be helped," study co-author Simon Hackett said." This study sends out an important message to children and families affected by sexual abuse. With the right help and support it is possible to recover and move on from abuse."
The study authors recommended the NSPCC build on these findings, and develop its program further to use with younger children.
Source: Carpenter J, Jessiman T, Patsios D, Hackett S, Phillips J. Letting the Future In: a therapeutic intervention for children affected by sexual abuse and their carers. An evaluation of impact and implementation. London: NSPCC. 2016.
Published by Medicaldaily.com