Austin Clark, High School Freshman With Down Syndrome, Scores Uplifting Preseason Touchdown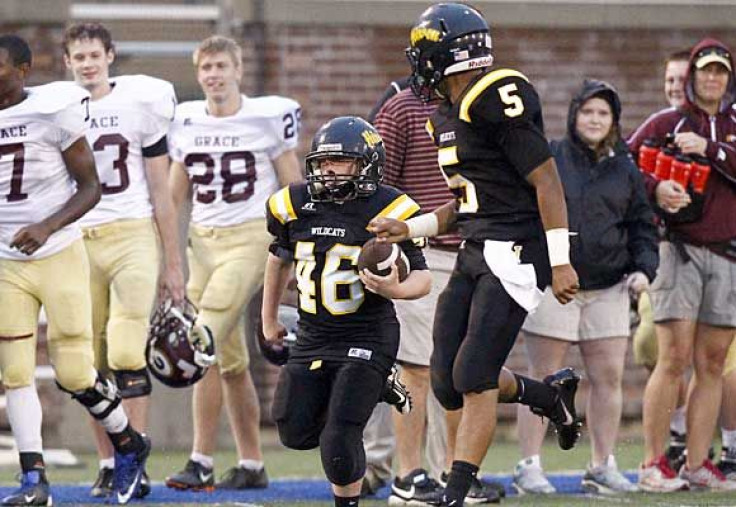 Austin Clark is a freshman at Hixson High School in Chattanooga, Tenn., who refuses to let Down syndrome hold him back from his accomplishments. Just check out his electrifying 65-yard touchdown run and see why Austin is such an inspiration to the entire Hixson football team.
Despite being the smallest player on the field, Austin's coaches and teammates can't think of anyone who works harder or wants to be playing football more than him. Standout running back Isaiah Robinson says Austin is "just like my brother."
"He comes to practice every day, and he comes ready to play," Robinson told the Chattanooga Times Free Press. "He comes there ready to everything we do, and it doesn't matter. He just wants to be here and play. When I went home, it made me realize I need to be happy no matter what. I need to come give my best to the team just like he does."
During last weekend's preseason matchup with Hixson's crosstown rival Grace Academy, Austin got the opportunity to show off his skills. Leading 20-0 in the fourth quarter, Austin's teammates and coaches called on number 46 to cap off the victory. The result? A 65-yard touchdown run that is sure to put a smile on anyone's face.
"It was the whole team's idea," Hixson's coach Jason Fitzgerald told the Chattanooga Times Free Press. "When we got the ball back, several of the seniors came over and told me they wanted to get Austin in the game, so I called time out and told [Grace] Coach [Bob] Ateca that we were putting him in and giving him the ball."
Fitzgerald, whose child with special needs passed away just a few years back, calls Austin an inspiration to both his teammates and the coaching staff. He added that Austin doesn't expect anything special for being out on the field day in and day out; he just wants to play some football.
"All the seniors wanted to be in there to block for Austin and watch out for him, but the Grace kids knew what was happening and they were great about it. You look at him over there, loving life and high-fiving everybody, and that's just a great memory," Fitzgerald said.
Published by Medicaldaily.com