Brain-Eating Amoeba Found In St. Bernard Parish Water Supply After Boy Dies From Infection [VIDEO]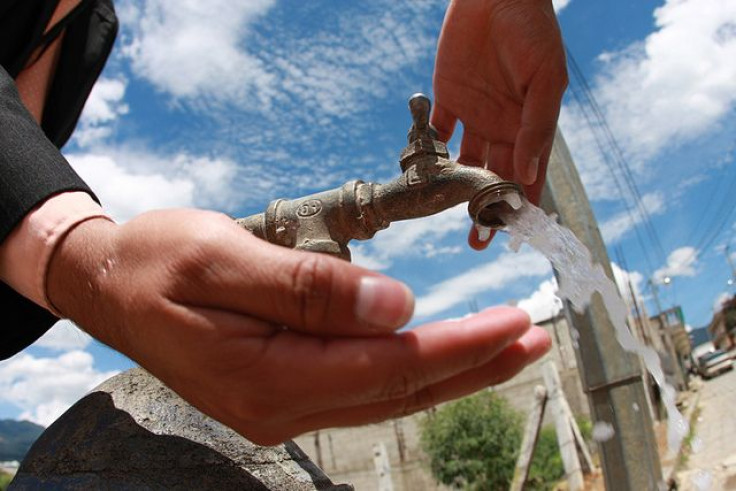 The brain-eating amoeba, Naegleria fowleri, has infiltrated the water system of the St. Bernard Parish, according to the Centers for Disease Control and Prevention (CDC) and other health officials. The rare but deadly parasite has already claimed two of its three victims' lives this summer, one of whom was playing on a water slide when he became infected five miles outside of New Orleans.
The CDC, along with the Louisiana Department of Health and Hospitals (DHH), filtered hundreds of liters of water from hydrants and faucets in order to capture any amoeba. Water samples from the Violet and Arabi areas of St. Bernard tested positive for the parasite, The Times-Picayune reported.
"While the water is safe to drink, there is a risk if the amoeba enters the nose," State Health Officer Jimmy Guidry told the Times. "There are basic precautions that families can take — such as chlorinating their pools and avoiding getting water in their noses — to protect, though infection from this amoeba is very rare."
Naegleria fowleri causes infection when it enters deep into the body through a person's nose — if ingested, stomach acid will kill the microorganism. Once it enters deep into the nose via a strong force of water, it travels up the olfactory nerve until it reaches the brain where it begins to destroy brain tissue, with symptoms often appearing one to seven days later.
"If you take a bath, do not put your head under the water completely," Dr. Raoult Ratard, an epidemiologist for the state, told the Times. "If you take a shower and you put the shower head right up your nose, that's not a good idea — but nobody does that … I take a shower every day and I never have water going all the way up to the ceiling of the nose. The water has to go all the way up, and you can feel it, because it burns if water goes way, way up there."
The DHH has been flushing St. Bernard's water system with chlorine and other chemicals since last week, and plans to continue to do so for several weeks. "DHH is working with parish officials to provide assistance and support to the parish's staff to ensure that chlorine levels are being monitored daily," Assistant Secretary for Public Health J.T. Lane said.
Other Brain-Eating Amoeba Cases
Over 120 people have suffered from primary amebic meningoencephalitis (PAM), the infection caused when the amoeba enters the brain, since cases were first reported in 1962. Only three have survived. Of the 32 cases between 2001 and 2010, 30 were from amoeba found in recreational water and two were from the water supply. The two who became infected from the water supply were flushing out their noses with a neti pot.
Almost a week ago, a four-year-old boy playing on a water slide at a home in St. Bernard became infected and died soon after. "They believe it was contracted with the slip 'n slide being out in the mud and the water for over a 12- or 14-hour period, in very hot conditions," St. Bernard Parish President David Peralta said, according to CBS News.
Naegleria fowleri is most often found in southern states, in warm to hot water, buried in the sediment at the bottom of lakes and rivers. The microorganism can also be found in geothermal water (hot springs), swimming pools that are poorly maintained, water heaters, and soil, according to the CDC.
The only survival story of this year, and the third ever to be recorded, is that of 12-year-old Kali Hardig, who became infected while at a lake-based water park in Arkansas. Because her mother quickly took her to the hospital, doctors were able to induce a coma, lower her body temperature, and administer a German breast cancer drug, miltefosine, not yet approved in the U.S., which has been shown to kill the brain-eating amoeba.
For 12-year-old, Zachary Reyna, who was the second victim this summer, administration of the drug didn't help, and he died soon after doctors found he had no brain activity. He became infected after playing in a water-filled ditch near his home in LaBelle, Florida.
Preventing Infection from Brain-Eating Amoeba
Louisiana health officials compiled a list of precautions that residents of affected areas can take:
Don't allow water to go up your nose or sniff water into your nose when bathing, showering, washing your face or swimming in small hard plastic or blow-up pools.
Don't jump into or put your head under bathing water. Instead, walk or lower yourself in.
Don't let kids play unsupervised with hoses or sprinklers, which may accidentally squirt water up their nose. Avoid slip-n-slides and activities where it is difficult to prevent water from going up the nose.
Run baths, shower taps and hoses for five minutes before use to flush out the pipes. This advice is most important the first time you use the tap after the water utility raises the disinfectant levels.
Keep small pools clean by emptying, scrubbing and allowing them to dry after each use.
Use only boiled and cooled, distilled, or sterile water for making sinus rinse solutions for neti pots or performing ritual ablutions. In 2011, the amoeba was linked to deaths of two Louisiana residents who used contaminated water in neti pots.
Keep your swimming pool adequately disinfected before and during use, maintaining proper pH and chlorine levels.
Published by Medicaldaily.com