Braving Crowds, Waiting for Hours for Free Medicine in India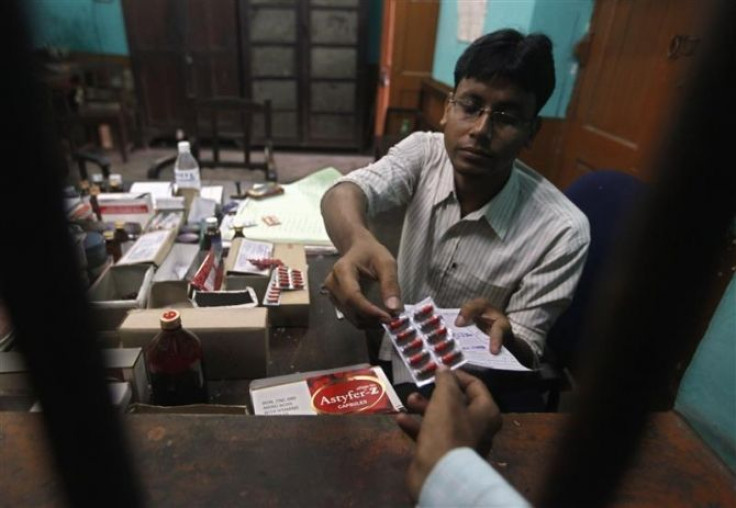 For Ramaiyah Venkat, a retired Indian schoolteacher, the two-hour bus journey every three months to get free insulin is worth it even if he has to queue for hours at the dispensary and sometimes gets less than he needs.
Thousands of people like Venkat flock to the huge Rajiv Gandhi General Hospital in Chennai city every day. Chennai is the capital of Tamil Nadu, one of two Indian states offering free medicine for all. The state provides a glimpse of the hurdles India faces as it embarks on a program to extend free drug coverage nationwide.
The Rajiv Gandhi hospital is the most convenient for Venkat. He says he is willing to brave the crowds of patients and their families, many sitting on the hospital floor and some eating food, to see a doctor and then queue to collect his medicine.
"If I have to buy insulin at a chemist's shop, I will have to spend hundreds of rupees. Instead, I prefer to spend a few on my visits," said Venkat after receiving the regular supply of medicine that is essential to treat his diabetes.
This time, he said, he got the full three month dose, but often he has to do with six weeks because of short supplies.
A key challenge to expanding the program is that India's public health system is already underfunded and struggles to meet the needs of 1.2 billion people, 40 percent of whom live below the poverty line of $1.25 a day.
The Tamil Nadu program is popular with poor and working class patients and was opened to all last year after an income eligibility cap was removed, but those seeking treatment often endure lengthy waits and occasional shortages.
To keep costs down, the price the state government pays to pharmaceutical makers is low -- between one-sixth and one-tenth of retail in a country with already rock-bottom prices thanks to a big generic drugs industry.
That means bigger drug firms tend to supply just a few of the higher-priced medicines, while bulk items like paracetamol are supplied by small firms, a state official said.
As a result, stocks can sometimes run out.
India's planned nationwide program has many of the same features, including centralized procurement, an emphasis on cheap generics, a specific list of permitted drugs and distribution limited to government hospitals and clinics.
"The intention seems to be very good but I have my reservations on the implementation part," said Ajay Kumar Sharma, who heads the pharmaceutical and healthcare practice for South Asia and the Middle East at Frost & Sullivan.
"If you plan to use the same machinery to execute this agenda, I think it will falter," Sharma said.
CROWDED HOSPITALS
The Tamil Nadu government says 50 or 60 percent of people in the state use the program, which cost just over 2 billion rupees ($36.27 million) last year.
By comparison, retail drug sales in the state, home to 62 million people, were 54 billion rupees, according to the Tamil Nadu Chemists and Druggists Association. Arul Kumar, general secretary of the industry body, figures only up to 30 percent of the population takes advantage of the free program.
At the Rajiv Gandhi hospital, up to 3,000 in-patients are treated at a time and an additional 12,000 outpatients visit every day, many collecting free medicine.
Crowds fill the corridors and stairwells and spill into the backyard, where the drug distribution counters are located.
"After the ceiling was removed, middle class and upper middle class (patients) surely come to this place, because treatment at private hospitals has become costly," said V. Kanagasabai, dean of the hospital, a seven-storey green-and-white complex in the city center.
"For emergency cases, priority is given ... Ordinary cases may take some time," he said.
Medical treatment can be a luxury in a country where annual public spending on healthcare totals just $4.50. Public health facilities are often overcrowded and understaffed, and many Indians must travel hours to reach one.
India has 9 hospital beds and 6.5 physicians per 10,000 people, according to the World Health Organization. By comparison, China has 42 beds and 14.2 doctors, while Britain has 33 beds and 27.4 physicians for every 10,000 people.
Those who can afford it tend to choose private health care.
"I prefer my family doctor, whom I trust and who knows my medical history," said Divya Raman, a 27-year-old IT professional from Chennai who said she had not heard of the free drug program.
Across India, just 20 percent of people receiving outpatient treatment do so at a government facility. That rises to 40 percent for in-patient care, according to Sakthivel Selvaraj, a health economist in New Delhi who advises the government.
In the desert state of Rajasthan in northwest India, the other state which offers free medicine, outpatient visits to public hospitals jumped 60 percent and inpatient admissions are up 20 percent since the program was launched last year.
"Right now, the number of doctors and the number of staff has to be increased, but only for the tertiary care (hospital) levels," said Samit Sharma, managing director of Rajasthan Medical Service Corp, which manages the drug program.
'EASIER SAID THAN DONE'
India's new program, to begin by the end of 2012 and roll out nationwide within two years, hopes 52 percent of the population is using free drugs by April 2017. It has budgeted nearly 300 billion rupees ($5.44 billion) to fund it.
The central government, whose subsidies on food, fuel and fertilizers bloat its fiscal deficit, intends to fund 75 percent of the program, with states paying the rest.
States must also build sourcing networks, set up warehouses with cold storage and mechanisms to test drugs made by the roughly 12,000 drugmakers in India, a mammoth task.
"The government would have to ensure that it creates the requisite processes, regulatory framework, quality compliance and the infrastructure to procure and distribute drugs, which is easier said than done," said Ramesh Swaminathan, chief financial officer at Lupin Ltd, a Mumbai generics maker.
Tamil Nadu, one of India's largest states, provides 270 different "essential" drugs from a WHO list and a further 174 specialty drugs. To ensure quality, it has tie-ups with 15 private labs to test procured medicines.
While the nationwide rollout promises big volumes for drugmakers, the focus on generics -- only 5 percent of the nationwide budget can be used for branded drugs, which is bad news for Big Pharma -- means margins are likely to be thin.
In Tamil Nadu, the government pays 95 rupees ($1.72) for 500 tablets of 500 milligrams of metformin, a popular diabetes treatment that would cost $13.60-$22.67 at retail in India, depending on the brand. In Singapore, the same purchase of branded metformin costs $59.30 at a pharmacy run by a cooperative.
At the hospital in Chennai, Mukhtarunnisa, a 52-year-old wearing the black burqa or top-to-toe dress used by Muslim women, said she had been getting outpatient treatment for a heart ailment for five years and had just received her medicine.
"If I buy these medicines from a pharmacy, I spend about 600 rupees a month," she said. "Better I stand here and get it free."
@ 2012 Thomson Reuters. All rights reserved.