California Confirms 119 Cases Of Measles In State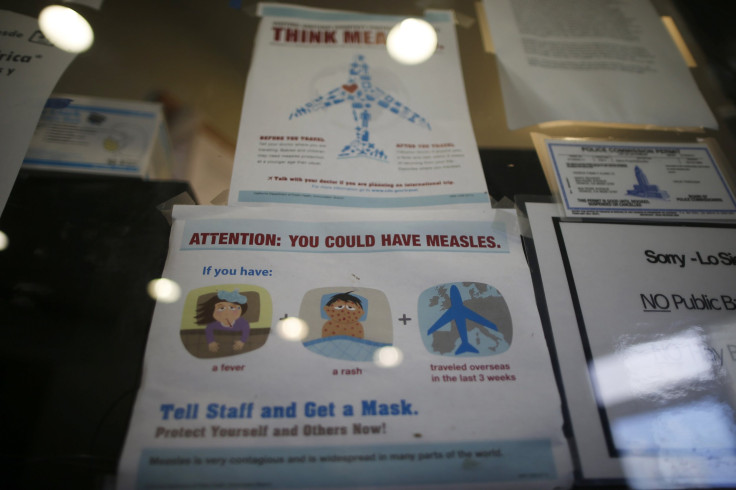 LOS ANGELES (Reuters) - Public health officials said on Wednesday that six more cases of measles had been confirmed in California, bringing to 119 the total number of people infected by a strain of the virus that has also been linked to a large outbreak in the Philippines.
More than 150 people across the United States have been diagnosed with measles, many of them linked to the wave of illness that authorities believe began when an infected person from out of the country visited Disneyland in late December.
California Department of Public Health researchers, in a report to federal officials released on Friday, said that specimens from 30 of the state's measles patients had been genotyped and that all were of the same strain that has caused an outbreak in the Philippines.
That same genotype has been detected in at least 14 countries and six other U.S. states in the last six months, the researchers said, and the source of the illness that sickened visitors at the Disney theme park has not been identified.
The Disneyland resort, located in Anaheim in Southern California, receives millions of visitors a year, many of them coming from overseas.
The report posted on the website of the federal Centers for Disease Control and Prevention said the outbreak illustrates the need for high measles vaccine rates in the United States.
The measles outbreak has renewed a debate over the so-called anti-vaccination movement, in which fears about potential side effects of vaccines, fueled by now-debunked research suggesting a link to autism, have prompted a small minority of parents to refuse inoculations for their children.
Some parents also opt not to have their children vaccinated for religious or other reasons.
According to the CDPH, 39 of the 119 people who contracted measles in the state were believed to have been exposed while visiting Disneyland. An additional 35 had contacts with those people in a household or community setting.
The state health department said another 45 cases have an unknown exposure source but are presumed linked to the Disneyland outbreak based on a combination of descriptive epidemiology or strain type.
Measles was declared eliminated in the United States in 2000 after decades of intensive childhood vaccine efforts. But in 2014 the country had its highest number of cases in two decades.
Most people recover from measles within a few weeks, although it can be fatal in some cases.
(Reporting by Alex Dobuzinskis and Dan Whitcomb; Editing by Lisa Lambert and Sandra Maler)
Published by Medicaldaily.com