California Doctor Overprescribes Pain Medication To Patients, Is Convicted Of Murder By Overdose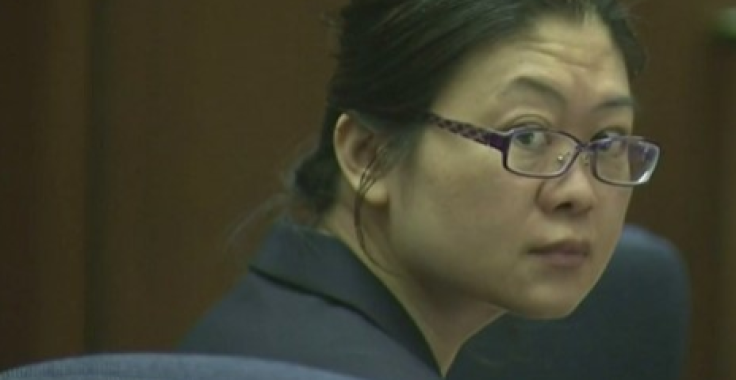 Dr. Hsiu-Ying "Lisa" Tseng, of southern California, is the first doctor to be convicted of murdering three of her patients by overdose, the Los Angeles Times reported. She was sentenced to 30 years to life in prison.
Before Tseng, 46, was sentenced by Superior Court Judge George G. Lomeli, she tried to blame the situation on her late patient's pharmacists and other doctors, respectively, rather than own up to her actions. Lomeli called the attempt "very irresponsible," and soon after prosecutors charged Tseng with second-degree murder in the case of patient deaths. The LA Times reported Joey Rovero, Steven Ogle, and Vu Nguyen all died after being prescribed "addictive narcotics" or painkillers by Tseng.
While the exact prescriptions were not specified for each patient, one reportedly died after mixing his prescribed oxycodone and Xanax with alcohol. It's widely believed mixing alcohol and opiate painkillers increases risk of overdose, though prescription painkillers can cause individual and public harm even if patients do not overdose.
This is not the first time one of Tseng's patients has died by overdose — Matthew Stavron, Ryan Latham, and Naythan Kenney all fatally overdosed in 2007 and 2008 after being prescribed drugs by Tseng as well, the LA Times cited. The prosecutor said this has happened more than a dozen times, but even after being called about for each resulting death, Tseng's prescribing habits did not change.
In court, Tseng wore blue scrubs and apologized to both her family and the victims' families.
"I'm really terribly sorry," she said. "I have been and forever will be praying for you. May God bless all of you and grant comfort to all who have been affected by my actions."
The sentencing of Tseng ends a landmark case that some experts believe could forever change the way doctors prescribe painkillers. Tseng may be the only doctor in the United States to be convicted of murder for recklessly prescribing drugs, but she's hardly the first to be targeted for "abandoning patient care because of greed," according to CNN.
The U.S. is in the midst of a prescription painkiller overdose epidemic, the Centers for Disease Control and Prevention reported. Since 1999, the amount of painkillers prescribed and sold in the states has nearly quadrupled, which leads to more abuse and overdose deaths. When considering increased rates of abuse, the National Institute on Drug Abuse cited it can risk patient's use of heroin.
In fact, some law enforcement officials blame the "reckless and criminal prescribing of opiate painkillers" on the higher incidence of heroin use.
"You can draw a straight line from pharmaceutical opiates to shooting heroin," Mark Normandy, a veteran DEA agent, told CNN. "At some point they can't afford the pills, the doctor gets popped or whatever, and there they are."
Some worry that Tseng's conviction will instill fear into other doctors and make them hesitant to prescribe powerful painkillers to patients who need them. Tseng's attorney Peter Osinoff said the trial had a "deterrent effect" on other doctors, and that more and more primary care physicians aren't accepting or treating patients with chronic pain.
Dr. Peter Staats, president of the American Society of Interventional Pain Physicians, supported this view. He believes the medical board, not prosecutors should be the ones to go after reckless doctors continuing to prescribe pills to patients they know abuse them.
In a letter Tseng submitted to the judge before sentencing, she discussed her conviction.
"I was not the doctor I should have been for the patients who came to me," she wrote. "I know that being remorseful for my failures as a doctor and as a person does not reverse time or does not help the families heal their grief…No words can properly describe the sadness."
Published by Medicaldaily.com