Concussion Symptoms Still Unclear To Many Parents, Hurting Kids' Chances Of Recovery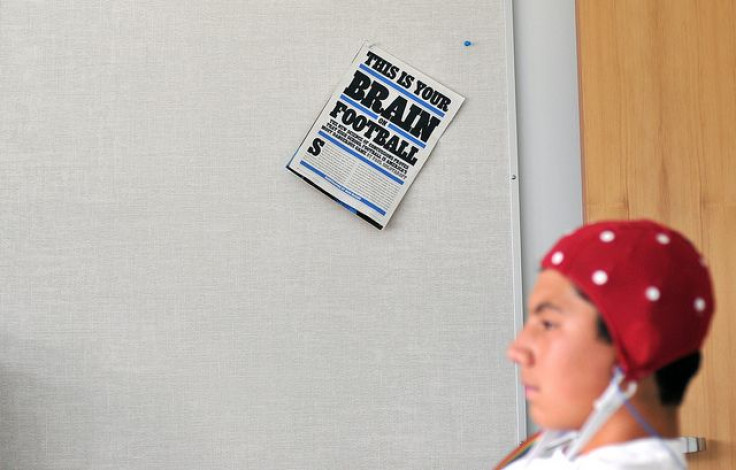 With football season fully underway, experts are pushing for increased knowledge about the sport's risk for concussions — from the scrambling pack of pee wee athletes to the seasoned varsity squad. According to recent research, however, few parents have it all covered.
Each year, U.S. emergency departments treat approximately 175,000 sports-related traumatic brain injuries (TBIs), according to the Centers for Disease Control and Prevention. In an effort to prevent young, headstrong athletes from abandoning their safety, not to mention losing their ability to play, the CDC created a comprehensive toolkit for parents and coaches called the Heads Up program. By at least two measures, the Heads Up program has been working, though not in full.
In one survey of 511 parents of kids ages 5 to 18, the good news was that 98 percent of parents knew a concussion would severely limit the range of activities the child could participate in. However, only 29 percent had a firm understanding of the Return-to-Play guidelines. And while half of the parents were able to identify a concussion, "the correlation between physician and parent perception of diagnosis of concussion was poor," the researchers explained.
The second survey was completed by two groups: 214 parents whose children were evaluated at a sports medicine clinic specializing in TBI and 250 parents of students at a local private school in Los Angeles. Most people, regardless of their group, incorrectly believed that imaging techniques like MRI and CT scans could diagnose concussions. In reality, the only way to diagnose concussion is through a panel of neurological tests of the patient's vision, hearing, balance, and reflexes. Brain scans come later, to check for signs of bleeding.
In a doctor's office, where experts can fill parents' knowledge gaps, the risks are decidedly low. But on-field, in the moments after a hit, quick action matters. The CDC, pediatricians, and other TBI researchers want to help in those moments, to ensure parents aren't in the dark when it comes to recognizing serious injury.
Luckily, progress is being made. "Our study showed that the vast majority of parents knew what to do if they suspected a concussion in their child and in most cases understood the clinical importance of this injury as a brain injury," said lead author Dr. Kirstin D. Weerdenburg, pediatric emergency medicine fellow at Toronto's Hospital for Sick Children, in a statement.
Of course, recognizing the signs of a concussion isn't the only responsibility parents have. After a child's doctor determines the appropriate treatment regimen, it's up to the parents to help their child follow through. Oftentimes, what may look like a healed concussion is actually still in the process of healing, and without sufficient rest time, putting the child back on the field could produce secondary injury.
"False perceptions such as the ones pinpointed by our study may impact when medical care is sought after concussion and lead to less than optimal home care," said senior author Dr. Tracy Zaslow, medical director of the sports medicine and concussion program at Children's Orthopedic Center, in Los Angeles.
Parents are encouraged to wait at least two weeks before letting kids back onto the field. If the injury isn't their first, the wait time expands to anywhere from three to five weeks all depending on the interval between the most recent injury and the current one. Kids already face a longer recovery time than adults, according to the CDC. Due to their brains still being in development, the risks of returning to play too early are also greater.
The authors of the two surveys presented their findings as part of a pre-conference symposium, "1, 2, 3, Go! Sports in the World of Pediatrics — Playing it Safe and Making it Fun!" held on Friday, Oct. 10 as part of the American Academy of Pediatrics National Conference & Exhibition.
Published by Medicaldaily.com