Could An App Help Someone Dealing With Depression? 85% Of Those Approved By NHS May Not Work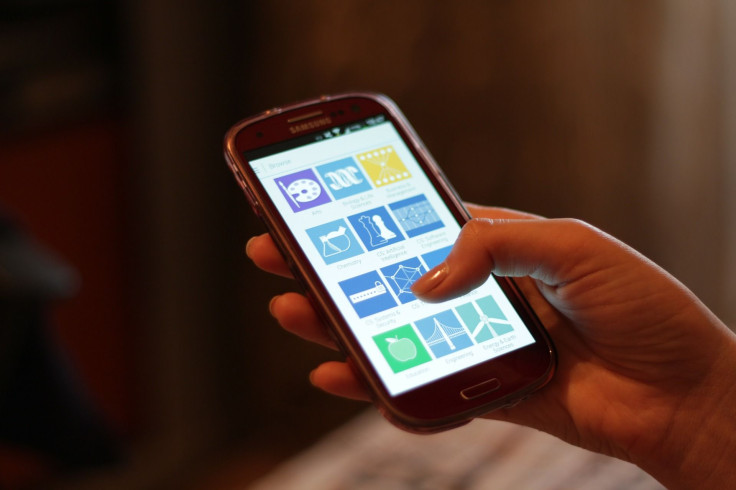 There's a smartphone app for nearly everything these days, and ones that monitor your health aren't excluded. Among the various apps designed to help you lose weight or manage your vitals like blood pressure, there are some aiming to improve your mental health — by offering stress reduction or depression-relieving features.
It's difficult, however, to gauge how well these really work in place of traditional mental health treatments like cognitive behavioral therapy or antidepressants. While the National Health Service (NHS) in the UK has accredited a relatively lengthy list of depression treatment apps as being useful, a new study challenges that by claiming up to 85 percent of them don't actually work. The study, completed by researchers at the Management School at the University of Liverpool and Liverpool Psychological Therapies Unit Community Interest Company, finds that out of the 27 mental health apps on the NHS library, only four provide scientific proof that they actually work. Among those, two have had their efficacy measured clinically.
"As such, confidence in, and the validity of, the claims made by apps that fail to apply such metrics must be considered as low at best, suggesting that the true clinical value of over 85 percent of NHS accredited mental health apps is at present impossible to determine," the authors said.
Even though there's credibility to NHS, listing these apps that haven't been tested is nearly the same as looking up medical information online, the authors argue. Using non-vetted apps is a "potential waste of money," as well as "likely to have a compounding effect on levels of anxiety in those with the greatest need and least access to effective treatment," the authors said.
In the study, the authors listed several apps dedicated to treating depression and anxiety, including "Hands up therapy," which aims to help people deal with their emotions; "Mindfulness" which enourages patients to reduce stress through meditation; and "Happy healthy," which guides users to self-reflect, be mindful, and log their activities. The four apps that provided evidence to substantiate their claims were Workguru, Happy healthy, Big white wall, and Moodscope.
The researchers point out that one in 10 mental health patients are placed on a waiting list of over a year before they're able to get proper treatment; one in two patients must wait over three months. Many patients seeking mental health care have suicidal tendencies, and as such it's crucial to provide them with help and treatment as quickly as possible.
While the study argues that we should be careful when choosing which apps to use, there certainly are benefits to dabbling in them. Health apps that are linked to electronic health records can lower expenses and complications; and often it's easy to try mental health apps yourself, as many are free and you might find they help. If you're looking to try a mental health app, choose wisely: The ones supported by medical experts and tested on a clinical level may be the most promising.
"This of course is no new finding," the authors wrote. "[N]umerous studies have demonstrated significantly improved outcomes for those using computer-based psychological treatments, with those supported by a practitioner and designed with clinical quality in mind, on average more than twice as effective."
Source: Leigh S, Flatt S. App-based psychological interventions: friend or foe? Evidence Based Mental Health. 2015.
Published by Medicaldaily.com